PRESSURE CONTROL INSIDE A MICROFLUIDIC SYSTEM
Monitor real time pressure wherever in your setup
The aim of this application note is to show how to install the pressure feedback anywhere in your setup.
Thanks to our pressure sensors especially developed for microfluidic purposes, you will just have to connect them wherever you are willing to and our dedicated software will allow you to monitor the desired pressure.
Our pressure sensors are designed to be plugged directly on your capillaries (10-32 fittings for 1/16 OD tubing) and are able to measure and feedback your liquids pressure with high speed and accuracy.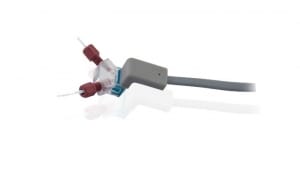 How to measure & maintain constant fluid pressure at a given point of microfluidic system using a pressure controller?
Pressure drop
Without a pressure sensor, it's really hard to know what the pressure is at a given point of your setup. This is due to the pressure drop occurring inside your microfluidic system (connector, tubing, microfluidic resistor, chip…) and it can be important to be aware of this pressure, or to be able to precisely control the pressure to apply at a given point of your setup.
Pressure Sensor
Accuracy down to 0.2 % Full Scale
5 ranges  from 1 psi (70 mBar) to 100 psi (7 bar)
Ultra small internal volume of 7.5 µL on small package version
Compatible with gasses and liquids
WORKING PRINCIPLE
Create a feedback loop between the pressure sensor and pressure controller and keep the pressure value constant at a given point of the microfluidic setup.
In order to perform this experiment user might need following instruments:
OB1 Mk3 pressure controller for pressure control and supply
Pressure sensor enabling to measure fluid pressure inside the capillary
Sensor reader. It enables to read the data measured by pressure sensor and create the feedback loop between OB1 Mk3 control and pressure sensor
Various accessories (tanks, tubing, connectors…)
SETUP DIAGRAM
Used with pressure controller
Used with syringe pump
In the case you use a pressure controller such as the OB1 Mk3, you can insert the pressure sensor at the point where you would like to monitor pressure. The sensor reader will be in charge of data acquisition and thanks to the feedback loop (PID) the pressure controller will be able to adjust real time pressure to follow instructions. It works the same as flow sensors.
If you use a syringe pump you can utilize the pressure sensor and the sensor reader too but you cannot benefit from the feedback loop. Still, being aware of the pressure inside of your setup with a syringe pump can be important*
*Usually the main parameter which is recorded and controlled during microfluidic flow experiments is the flow rate value (Flow Sensor). If the researcher has decided to use a syringe pump in his experiment he will directly type the desired flow rate and the syringe will maintain it constant by pushing the syringe piston. Unfortunately, there is no way to control the forth of pushing with almost all standard models. This might be critical for pressure sensitive samples or microfluidic devices (some connectors are not compatible with high pressure and could leak).
This issue could be partially overcome with pressure driven flows. When a pressure controller is used to create and keep the flow constant user knows the precise pressure value applied to the fluid and the pressure controller will never apply higher pressure on them. Moreover, we have included in our ESI software, a security option enabling to artificially limit the working range of the controller. This way researcher cannot accidentally apply higher pressure values on the working range of the controller especially when working with sensitive samples.
Step by step control in Elveflow Smart Software
OB1 flow control in action
NEED ADVICE TO PERFORM PRESSURE DRIVEN MICROFLUIDICS?










Feel free to contact us at:
contact@elveflow.com
Ask me your question
(We will answer within 24 hours)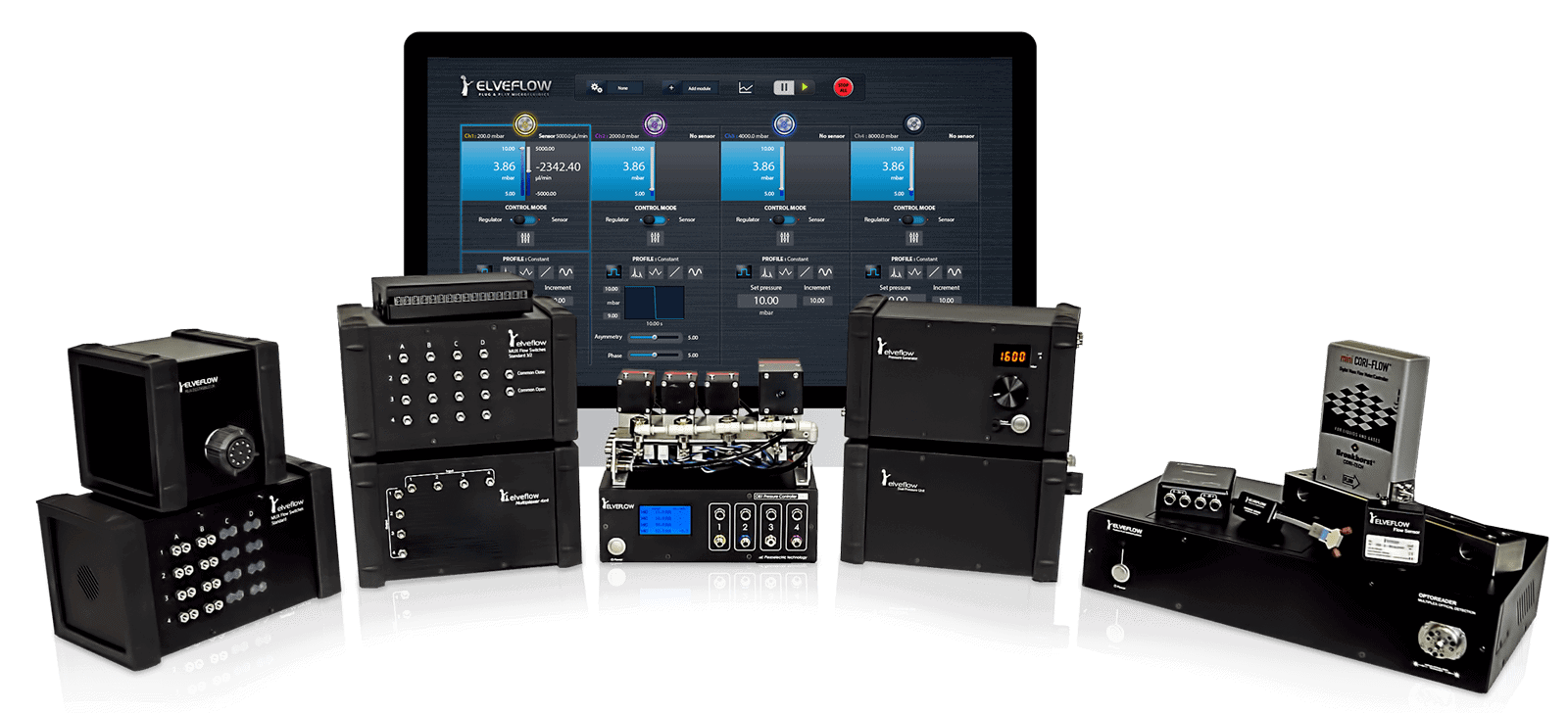 WORLD LEADER IN HIGH PERFORMANCE MICROFLUIDIC FLOW CONTROL
We  provide the only microfluidic flow control system using Piezo technology that enables a blazing fast flow change in your microdevice.