HIGH PERFORMANCE SCIENTIFIC INSTRUMENTS FOR MICROFLUIDICS
Elveflow® focuses on the development of high performance and Plug and Play flow control systems fitted to microfluidic research. We provide the only microfluidic flow control systems using Piezo technology and blazing fast flow changes in your microdevice. We can advise you and install the setup best fitted for your lab.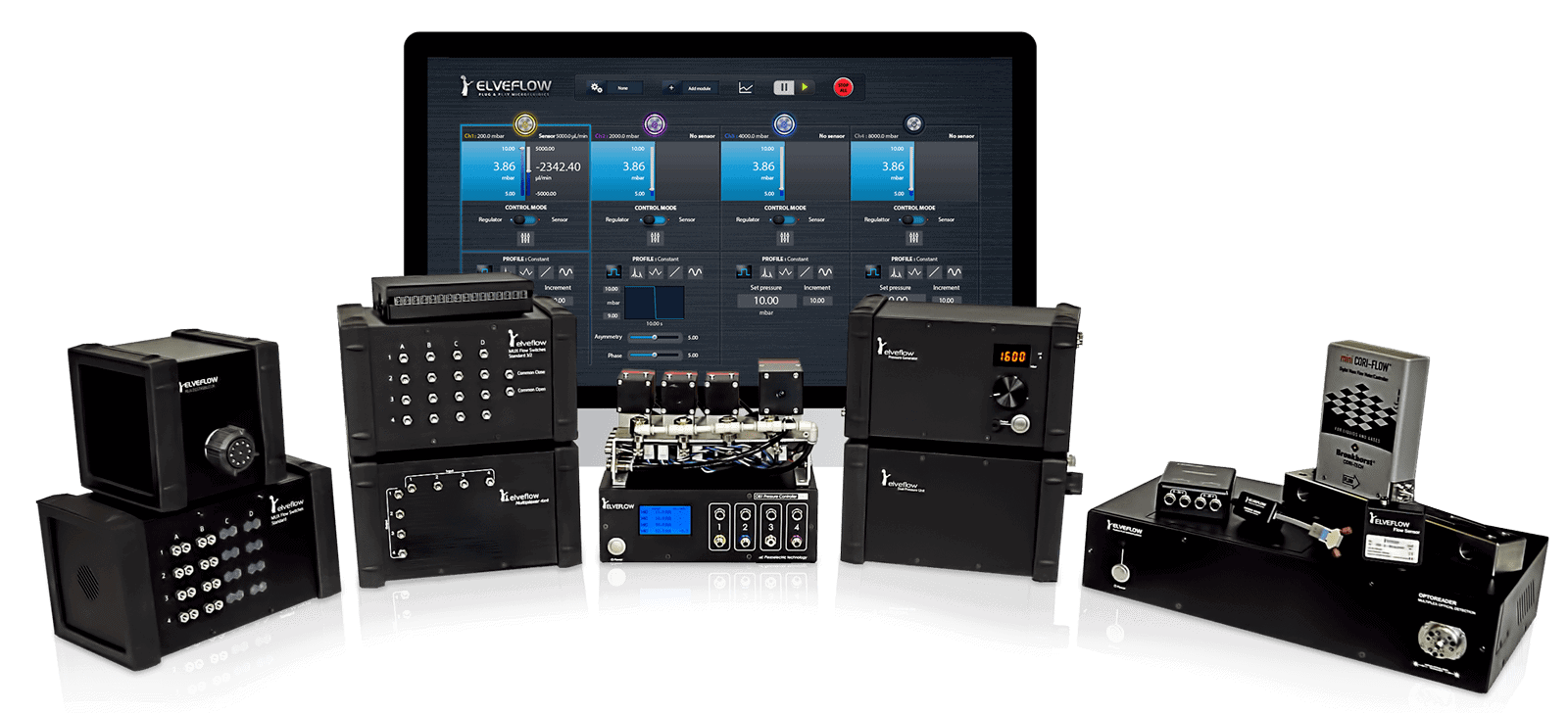 MICROFLUIDIC PRODUCT LINE
Elveflow offers the most complete range of microfluidic instruments. Our product line covers the main applications in the field.
This unique advantage maximizes your chances of finding an instrument that is compatible with your current setup and that also meets your changing needs, regardless of the modifications you wish to make in your system.
New product
droplet generator pack
The droplet generator pack had been designed to fit most common droplet generation needs of researchers.
> See more
WORLD LEADER IN HIGH PERFORMANCE MICROFLUIDIC FLOW CONTROL
In just a few years, Elveflow became the world leader in high performance microfluidic flow control. Today, Elveflow provides the largest range of microfluidic flow control systems.
> See more
Advice & Expertise
The experience & responsiveness of our engineers ensure a fast and thorough resolution of any issue that may arise. The Elveflow® support staff is only one phone call or email away.
Everything needed for a smooth start
Fittings & connectors, tubings, reservoirs… Our complete line of microfluidic kits and spare parts provides a number of solutions that will meet any of your requirements.
BECOME A BETA-TESTER
Because we want to offer our customers products that best fit their needs, we constantly develop new innovative instruments for the microfluidic community.
Applications & Tutorials
We chose to publish and share with the microfluidic community a lot microfluidic tutorials, application notes and reviews.
OEM SOLUTION
Our flow controller OB1 – OEM  derives directly from our best seller product, used by hundreds of academic and industrial laboratories worldwide.

High-quality
innovative products
We use an aeronautic technology and select our components on performance and reliability criteria. Each one of our instruments undergoes demanding testing before being sold. This challenging process minimizes after sale service and allows us to offer a two year warranty.
Publication officielle : apport de l'activité Fastgene à BforCure par Elvesys par voie d'apport partiel d'actif.
En date du 28 novembre 2018, la société Elvesys a initié le processus d'apport de la branche d'activité autonome Fastgene au bénéfice de la société BforCure.
Les documents 'Avis de projet d'apport scission' et de 'Projet de traité d'apport partiel d'actifs' sont téléchargeables ci-dessous :
Avis de projet d'apport partiel d'actif
Projet de traité d'apport partiel d'actif