Pulsation and oscillation of syringe pumps in microfluidics
An issue that syringe pumps have in common with peristaltic pumps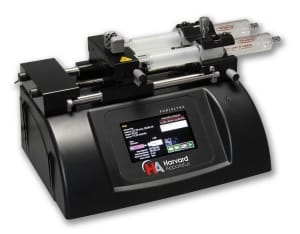 Prof. Smith : "Here, in your graph, there are oscillations in the signal due to your flow generating device. You shouldn't have used the peristaltic pump for that experiment."
Grad. student : "Well, I used the lab's (not so new) syringe pump…"
Prof. Smith : "Hmmm …"
In this tutorial we will examine why syringe pumps generate flow oscillations during microfluidic experiments and how to overcome this issue.
.
Need advice to upgrade your syringe pump ?










Feel free to contact us at:
contact@elveflow.com
Ask me your question
(We will answer within 24 hours)
An odd behavior: the answer comes from inside the syringe pump
Peristaltic pumps work by squeezing tubing with rollers moving in a rotary fashion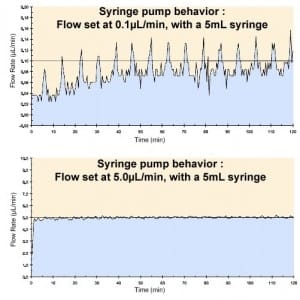 . Because there are oscillations in the flow rate and pressure pulsations, the fluid flow is not uniform in time. Sometimes, syringe pumps can lead to results similar to those given by peristaltic pumps in which there are oscillations in flow rates with consequences on experimental results. It is especially the case when there is an inadequate combination of syringe size and targeted flow rate, or when a low flow rate is used. The reason for this behavior is mechanical.
In a syringe pump, only the mechanical part of the device is responsible for these oscillations. In order to move the syringe's piston, an electrical engine sets an endless screw in motion, on which the piston carriage is set. At low flow rates, it happens that the step-by-step operation of the electrical engine is perceptible because the syringe pump's piston has to move very slowly to deliver the required flow rate.
.
.
.
 .
.
How to limit flow oscillations during your microfluidic experiment.
Choose the right syringe volume for your experiment
The minimal injected volume is proportional to the syringe diameter. That is why a smaller syringe diameter improves the the flow rate stability. Even if the limit value depends on the syringe diameter and the quality of the syringe pump, this flow oscillation issue must be considered when the expected stability is on the order of magnitude of 0,1 µL/min.
.
.
.
.
.
Increase the elasticity or the fluidic resistance of your fluidic system
Increasing the elasticity in the system enables a smoother flow rate, which improves stability but unfortunately, decreases responsiveness. Your fluidic system acts as a low-path RC filter which smoothens the flow rate. Increasing the elasticity or the fluidic resistance of the fluidic path will enable you to smoothen your flow rate and minimize flow oscillations. The elasticity of tubing can be employed in a sophisticated manner to smoothen flow rate fluctuations often observed when using a syringe pump.
To learn more about Elveflow syringe pump flow stabilizer : click here
.
.
.
Use a microfluidic pulseless syringe pump
Some manufacturers design their syringe pumps especially for microfluidic applications. These syringe pumps are made for low flow rates: the engine is demultiplied so that the step-by-step operation is no longer perceptible, allowing for smoother and more pulseless flow generation. These pumps also manage high pressures, but the amount of dispensable liquid is generally very limited.
For more information about push syringes, see our tutorial about syringe pumps here.
If you want more information about the different types of existing microfluidic flow control instruments, you can also read our tutorial on how to choose the right microfluidic flow control system.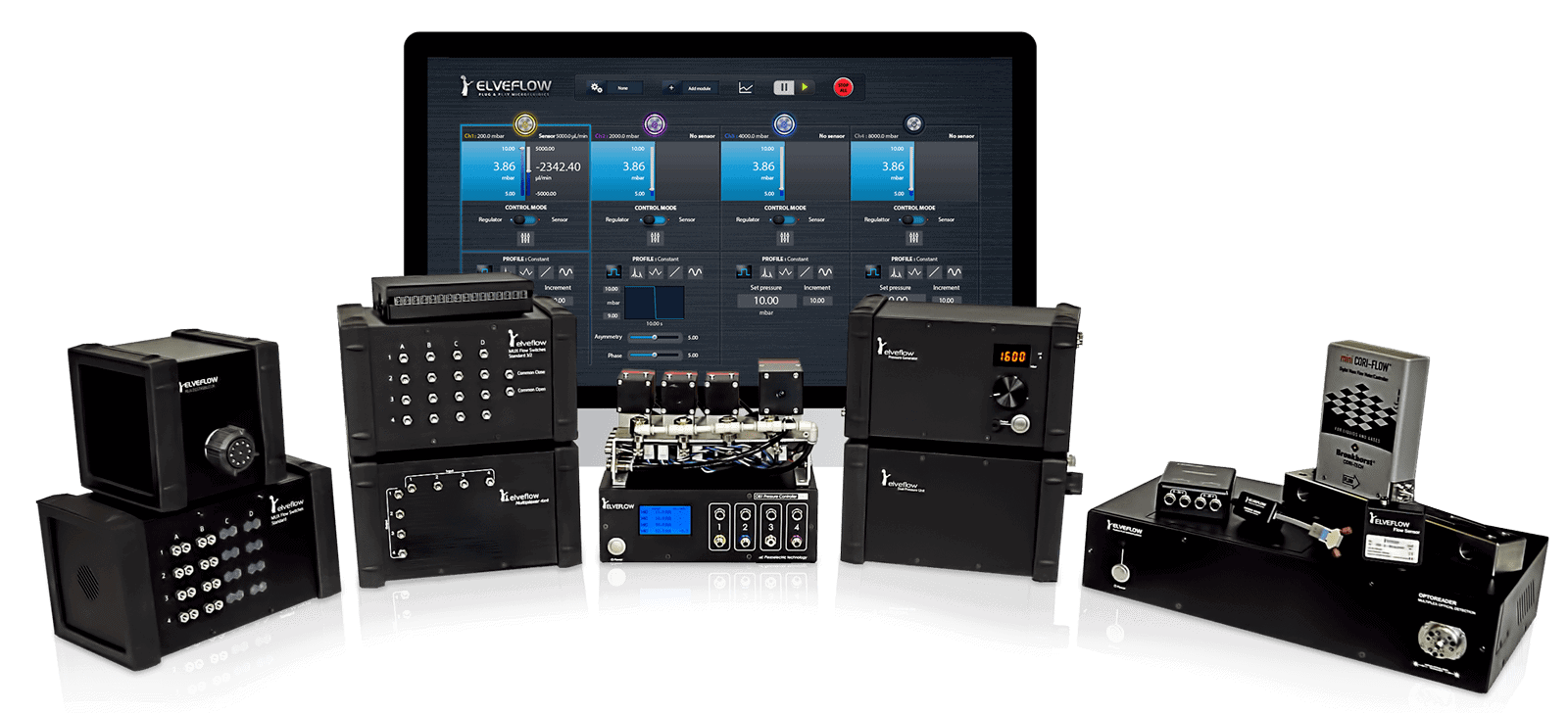 WORLD LEADER IN HIGH PERFORMANCE MICROFLUIDIC FLOW CONTROL
We  provide the only microfluidic flow control system using Piezo technology that enables a blazing fast flow change in your microdevice.

For more tutorial about microfluidics, please visit our other tutorials here: «Microfluidics tutorials». The photos in this article come from the Elveflow® data bank, Wikipedia or elsewhere if precised. Article written by Guilhem Velvé Casquillas and Timothée Houssin.