OEM -SOLUTIONS
The best microfluidic technologies are developed by Elveflow. You can now integrate these technologies into your products, and benefit from our expertise. Depending on your needs, we can provide you customized systems or develop an innovative solution from  limited series to large scale production.
OUR EXPERTISE
We are specialists in the design and manufacture of high precision scientific instruments, and more specifically in the microfluidic field. All our instruments are highly customizable and are available in end user or OEM version. Our microfluidic flow control oem solutions are designed to be easily integrated, both in terms of hardware and software. In order to provide you our expertise without unnecessary constraints, we developed a holistic approach.
We have all the skills in-house to assisst you in your project: OEM MECHANICS & CAO, ELECTRONICS, SOFTWARE INTEGRATION… and of course MICROFLUIDIC FLOW CONTROL OEM.
Get Quote or Technical Information
(We will answer within 24 hours)
 OEM solution – OB1 (Microfluidic flow control)
Our flow controller OB1 – OEM  derives directly from our best seller product, used by hundreds academic and industrial laboratories worldwide. It guarantees the best performances on the market, with a perfect reliability.

Elveflow is the only company offering cutting edge piezoelectric technology for flow control and we developed a unique expertise. Our OB1–OEM system takes full advantage of our experience in the field of scientific research, but is also fitted to industrial constraints. Your system will benefit from our high-quality, robust and easy to integrate technology.
Piezoelectric technology
From the aerospace and automobile industry
Highly customizable: 2-channels, 4-channels, 8-channels, 16-channels, 32-channels and up to 256-channels
Each pressure outlet can be set with a specific maximum pressure range: (200 mbar, 2 bar, 8 bar, -900mb/+1bar)
Each channel can be coupled with an additional flow meter
CAO
With tens of implemented projects, and hundreds of prototypes developped, ou R&D teams have extensive experience in CAO, and particularly when it comes to specific constraints related to microfluidics. Form technical specification, our mechanical engineers can create the OEM solutions you need, or adapt our products to your specific needs.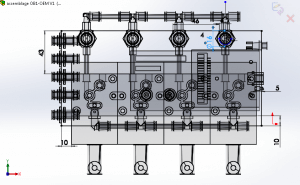 The following table summarizes the main features of the Elveflow® OB1-OEM pressure controller
Seamless integration for software & hardware
Hardware: Our OEM systems allow a seamless integration thanks to their compactness and easy interfacing. A simple serial USB connection allows interfacing through our API, the native in/out triggers provide optimum interactions and we use standard fittings for pneumatic and fluidic connections.
Software: Hardware is nothing without a reliable, well-engineered software. We provide our software with all OEM products, as well as librairies for a customized software development (C DLLs, Python librairy, MATLAB librairy and LABVIEW librairy).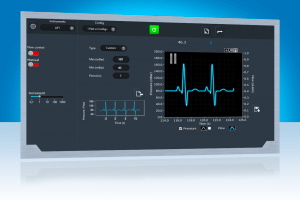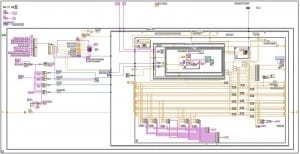 National Instruments is our technological partner for embedded electronics
Elveflow provides a wide range of sensors suited to microfluidics. These sensors are design to work with our liquid handling solutions and can be enslaved to our OB1–OEM system. We will be able to design together a custom fluid handling solution suited to your particular requirement. Benefit from our high-quality, robust and easy to integrate technology.
Mass Flow Sensors: from nL/min to 5mL/min. 5% accuracy
Coriolis Flow Sensors: from 0.1 to 200 g/h. 0.2% accuracy
Disposable Flow Sensors
Capillary Pressure Sensors :  up to 7 bar. 0.2% accuracy
Inline Pressure Sensors: 0 to 16 bar. 2% accuracy.
Liquid Sensors
Fluorescence Sensors: high sensitivity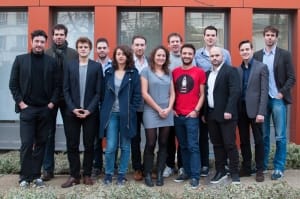 Our engineers work together in interdisciplinary teams and our project managers will provide you experienced-based guidance to the final result. By centralizing our expertise, and thanks to an efficient and fast communication, we are able to translate your ideas into a product within a short time frame. We are available for our partners at any time.
Working with us enables you to move resources away from technical developments and focus on innovation.
Services:
Personalized expert advice for our clients and partners
Creation of technical specification
Risk management and analysis
Development and production of mechanics, electronics and software
Prototyping
Beta testing, trouble shooting and continuous improvement
Datasheets and user guides creation
Production, from limited series to large scale
Maintenance, support and training
Upgrades of your systems
Why choose us as OEM partner?
Benefit from our expertise – Our management is based on senior engineers. We launched up to 15 new microfluidic products in the last 4 years and are used to drive projects with external partners. Our R&D team is familiar with the challenge of industrializing a new product and will provide you advices and guidance.
A receptive and efficient partner – We are well aware of the importance of keeping up with the fast-changing market you want to address.  At Elveflow, we are driven by a reactive and efficient project management. You are ensured that your projects are delivered on time and match your requirements.
A soft intellectual property policy – We believe that intellectual property should never be an obstacle to innovation. With our open-source philosophy, you are able to integrate our OEM solutions to your products and easily patent your innovation.
A trusted manufacturer –  We have a proven track record working with high profile companies worlwide.
A trusted manufacturer
High profile companies already trust us for their scientific instruments. Why not you?