MATERIALS FOR MICROFLUIDIC DEVICE FABRICATION: A REVIEW 2017
INTRODUCTION ON Materials for Microfluidic Chips Fabrication
---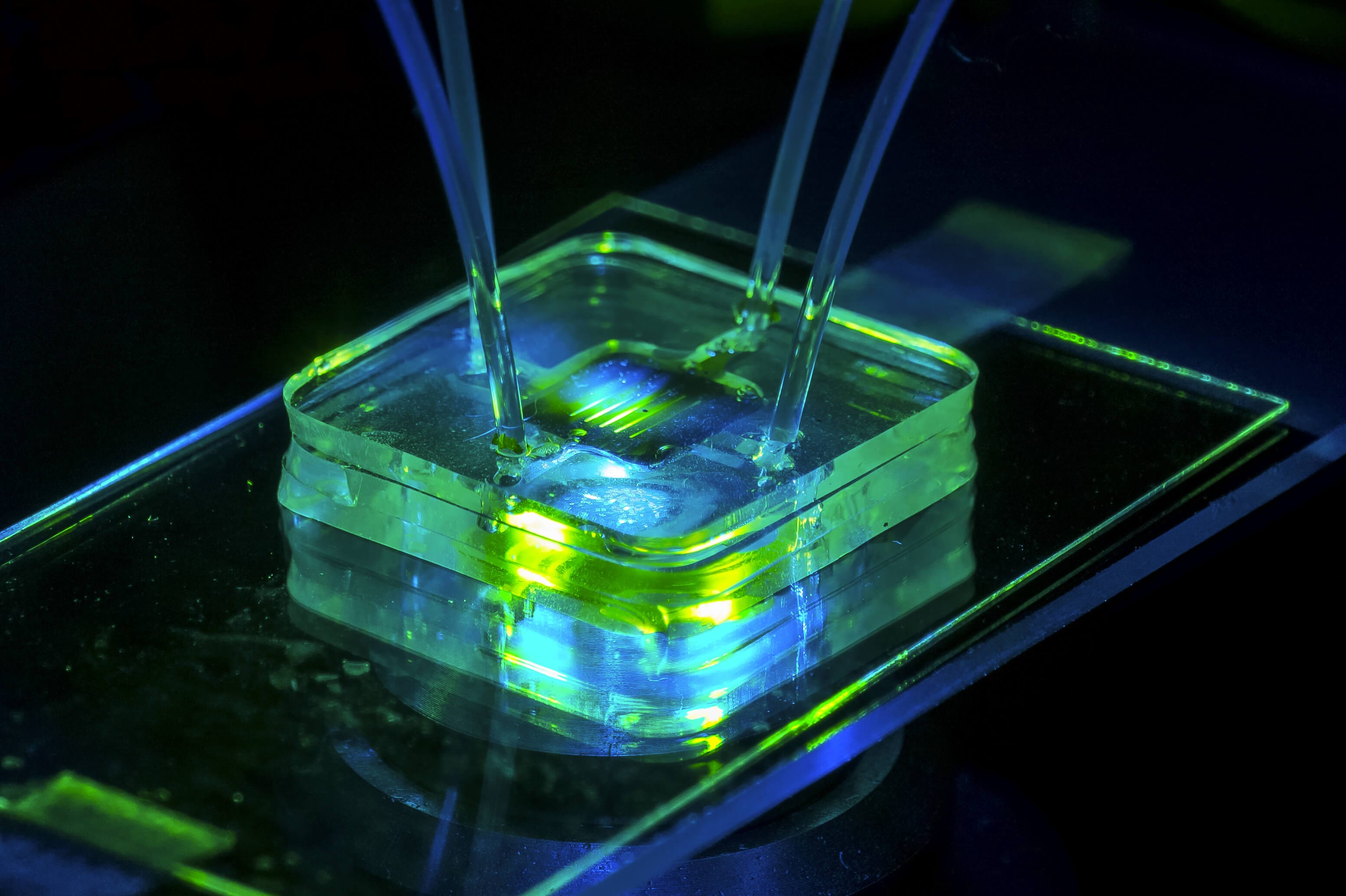 A microfluidic chip is a pattern of microchannels molded or engraved. Output holes are built through the chip and serve as links between the microchannels network and the macro-environment. Presenting sometime valves for active flow control, Microfluidic chips can easily handle fluids no matter the area of application.
Depending on the desired application (lab-on-a-chip, detection of pathogens, electrophoresis, DNA analysis etc), the microchannels network design must be adapted to meet the requirements to deliver the coveted result. Thus, the materials for microfluidic chips employed should also be adequate and present the appropriate properties.
Silicon and glass were the original materials first used for microfluidic applications, however as time passed by and new technologies advances occurred, new materials including polymer substrates, composites or paper were used as materials for microfluidic chips. For research purpose, the materials used generally prioritize versatility and performance of the device whereas in commercialization, cost of production, reliability and ease of use are placed above all[1]. Moreover, each material employed naturally corresponds with specific microfabrication strategies and certain native properties of the device[2]. Therefore, the material for making microfluidic chips plays an important role in microfluidic technologies.
Materials for microfluidic chips can be organized into three broad categories: inorganic, polymeric, and paper. This Review mainly focuses on some of these materials and their properties for the fabrication of microfluidic chips. The information gathered is mainly from the excellent articles of Nge et al. 2013, and Wu et al. 2013 among others[3].
I. Materials for Microfluidic Chips Fabrication: Inorganic Materials
I.1. silicon microfluidic chip
---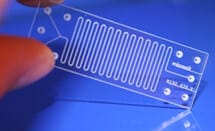 The first material used for microfluidics was silicon even though it was quickly replaced by glass then polymers[4]. Silicon was first selected due to its resistance to organic solvents, ease in metal depositing, high thermo-conductivity, and stable electroosmotic mobility[5]. However, this material is not easy to handle owing to its hardness which doesn't make it easy to create active microfluidic components such as valves and pumps. Dangerous chemicals used during the fabrication process also require protective facilities[6]. Adding high cost to the problems, all these downsides make silicon all the more an unattractive material to use for building microfluidic chips[7].
Transparent to infrared, silicon is an opaque material and thus cannot be seen through. Consequently, fluorescence detection or fluid imaging would be rather difficult to perform though this issue can easily be overcome by grafting to transparent materials such as polymers or glass in in an attempt to get a hybrid system ready to be used[8]. Silicon surface chemistry is based on the silanol group (−Si−OH), a well-developed chemistry, so using chemical modification of silicon surface could be a way to reduce non-specific adsorption or improve cellular growth for instance[9]. Its elastic modulus is quite high (130−180 GPa) and devices using silicon are fabricated through wet/dry etching or additive methods such as metal or chemical vapor deposition[10]. Droplet-based polymerase chain reaction (PCR) or nanowires for label-free cardiac biomarker detection are possible applications for silicon microfluidic chips.
I.2. Glass microfluidic chip
---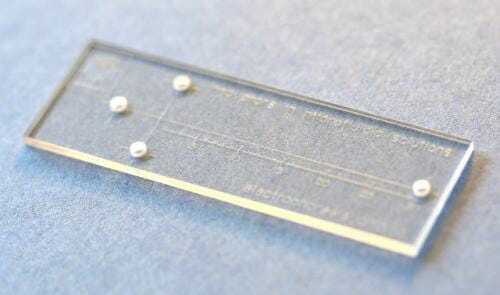 After the initial focus on silicon, glass was the material selected to build microfluidic chips[11]. Glass or quartz capillaries for gas chromatography and capillary electrophoresis (CE) microchannels had already been used prior its integration to the microfluidic field[12]. Optically transparent and electrically insulating, glass is an amorphous material. This material is generally processed with standard photolithography or wet/dry etching methods[13]. Unless special etching techniques are employed, etched glass channels have rounded sidewalls.
Glass is compatible with biological samples, it is also a material not permeable to gas and has relatively low non-specific adsorption[14]. Because gas can go through glass chips that generally present enclosed channels and chambers, this material cannot be used for long-term cell culture. One major application of glass chips is capillary Electrophoresis (CE). This cheaper method is more convenient than standard CE since it is easier to set parallel analysis, and it can also offers valve-free injection by directly utilizing the electroosmotic flow, which can separate analytes within seconds[15].
Other typical applications include on-chip reactions droplet formation, solvent extraction and in situ fabrication[16]. Finally, due to its high thermo-conductivity and stable electroosmotic mobility on its surface, microchannel made of glass provides better performance than other materials[17]. Just like silicon, glass modification chemistry is silanol based[18]. Similarly, due to its hardness and the high fabrication cost, many limits to glass application in microfluidics arise (protective facilities, super clean environment for bonding, high temperature and pressure required in the fabrication process, etc)[19]. These limitations are the origin to the development of alternative low cost chip materials that can be easily fabricated and are compatible for broader biological applications.
I.3. Ceramic microfluidic chip
---
The LTCC technology is well established both for low-volume, high-performance (military, space) and high-volume, low-cost (portable wireless, automotive) applications. LTCC has good electrical and mechanical properties, high reliability[20]. Sophisticated micro-electromechanical systems and micro-opto electromechanical systems packages made using LTCC technology integrate electronic measurement, control, and signal conditioning circuits[21]. Moreover, electrical, optical, gas, and fluidic network systems are realized in one package.
Microfluidic devices made from ceramic are generally using low-temperature cofired ceramic (LTCC). This ceramic is an aluminum oxide based material that comes in laminate sheets that are patterned, assembled, and then heated at elevated temperature[22]. It has been demonstrated that LTCC device presented low non-specific adsorption[23].
The advantages of the LTCC structure are a much lower price and a shorter development time[24]. LTCC technology also allows the inclusion of integrating heaters, sensors, and electronics (control and measurement electronics, and a light detection system) into one module, which is the main advantage of this technology over silicon, glass, and polymer technologies as it simplifies the measurement system[25]. Thick film materials offer the possibility of manufacturing not only a network of conductive paths in a package but also of other electronic components, sensors, and microsystems[26].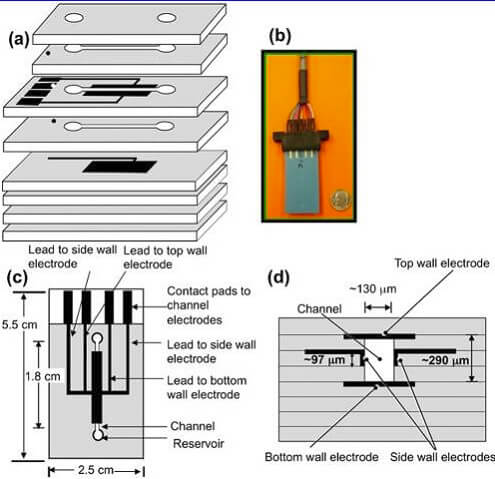 Microfluidic device made from LTCC (from Nge et Al. 2013)
(a) Multilayer stacking to create a screen-printed gold/LTCC microchannel device.
(b) Photograph of a microchannel device with an edge connector.
(c) Top down view of a device.
(d) Cross-section view of the microchannel showing the four gold electrodes. The width of the chip in panel d is not drawn to scale.
II. Materials for Microfluidic Chips Fabrication: Polymers
Polymer-based chips were introduced several years later after silicon/glass chips[27]. The vast variety of polymers grants great flexibility in choosing suitable material with specific properties[28]. Polymers are easy to access and inexpensive compared to inorganic materials, they are now the most-commonly used microchip materials[29]. According to their physical properties, polymers can be classified into elastomers, thermoplastics and thermosets, and the first two groups are much more employed as materials for microfluidic chips[30].
II.1. Elastomers
---
Elastomers consist of cross-linked polymer chains that are normally entangled; they can stretch or compress when external force is exerted, and return to the original shape when the external force is withdrawn[31]. They present weak inter-molecular forces and most of the time they have a low Young's modulus and high failure strain compared to other materials[32].
II.1.1. PDMS microfluidic chip
---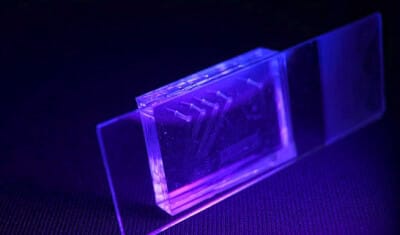 PDMS has been widely used in microfluidics for rapid prototyping because it is easy to fabricate, it bonds strongly to glass and PDMS substrates, and has good optical transparency and elastomeric properties[33].
PDMS is the most common microfluidic material used in research laboratories due to its reasonable cost, rapid fabrication, and ease of implementation. Device molds are formed via conventional machining or photolithography methods, and PDMS microstructures are cast and cured on these molds[34]. Complex microfluidic designs can also be created by stacking multiple layers[35].
PDMS has a low elastic modulus (300−500 kPa), making it suitable for valves and pumps fabrication[36]. Its gas permeability can be advantageous for oxygen and carbon dioxide transport in cellular studies, however bubble formation from passage of gas through PDMS can be problematic[37]. PDMS is susceptible to nonspecific adsorption and permeation by hydrophobic molecules due to its intrinsic hydrophobic nature causes[38]. Chemical modification of PDMS can address these issues, in fact Plasma exposure will hydrophilize the exposed PDMS surface[39]. However, after this treatment the newly formed hydrophilic surface is not stable and can be reverted to its original hydrophobic form shortly sometime after[40].
The tendency for absorbing and dissolving hydrophobic molecules that causes its swelling when in contact with nonpolar solvents is also one of the consequences of PDMS hydrophobic surface[41]. Furthermore, adsorption of biomacromolecules such as proteins on channel walls is also a common problem for microfluidic devices fabricated from PDMS[42].
II.1.2. Thermoset polyester (TPE)  microfluidic chip
---
Insoluble and highly resistant to creep, thermosets are polymers with chain irreversibly bound together when cross-linked[43]. They are easy and fast to craft polymers that are optically transparent and inexpensive[44]. They don't melt, don't swell with certain solvents and they are not gas permeable, which make them inadequate material to use for long-term cell cultures[45].
Their high mechanical and physical strength is due to a highly cross-linked polymeric structures, and they harden when heated[46]. One major advantage of thermosets is for 3D microfabrication using photopolymerization. Thermosets are improper for the fabrication of valves due to their high stiffness, and with their high cost, their applications in microfluidics are limited[47].
Thermoset polyester (TPE) is one of the most used thermoset in microfluidics. It is a transparent material in the visible and has a higher elastic modulus (1−100 MPa) than PDMS but a lower one than typical thermoset plastics (>1 GPa)[48]. TPE is a thermally initiated material formed by the polymerization of polyester and styrene through UV or heat[49]. This hydrophobic material requires surface modification through buffer additives or chemical reactions to allow water to flow readily through microfluidic channels[50]. Chlorinated solvents can dissolve TPE though it is resistant to many other solvents[51]. Lastly, the fabrication of TPE valves similar to those made of PDMS is also possible.
II.2. Thermoplastic polymers 
---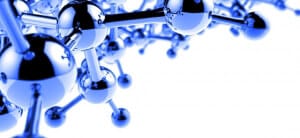 Thermoplastics are material that can be remolded multiple times by reaching glass transition temperature (Tg)[52]. They are highly crosslinked polymers that can retain their shape after cooling[53], and they are also suitable for micro-machining processes. Optically clear polymers, thermoplastics are resistant to permeation of small molecules, and stiffer than elastomers. Barely permeable to gas, their sealed microchannels are unsuitable for long term cell cultures[54]. Plus, thermoplastic valves are difficult to make because of their rigidity.
Thermoplastics are fabricated by thermomolding, a process requiring templates in metal or silicon for using at high temperature. It allows the production of thousands of replicas at high rate and low cost, and is excellent for commercial production but not economical for prototypic use[55]. Rapid prototyping using transfer molding uses PDMS as replication intermediate and enables the transfer of micropatterns to thermoplastics from easy-to-prepare photoresists[56]. This technique is limited to thermoplastics with Tg's below 150 °C because PDMS releases gas during molding at higher temperatures[57]
Unfortunately, thermoplastics cannot form conformal contact with other surfaces unlike PDMS[58]. Their surface can be modified by dynamic coating or surface grafting depending on their applications[59]. Covalent modified surfaces are generally more stable for thermoplastics than PDMS. For example, it is possible to easily integrate electrodes for flexible circuits, and thermoplastics surfaces can retain hydrophilicity for up to a few years after treatment with oxygen plasma[60].
II.2.1. Polystyrene (PS) microfluidic chip
---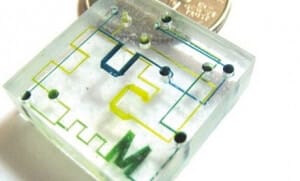 Polystyrene (PS) is optically transparent, biocompatible, inert, rigid, and its surface can be easily functionalized[61]. Its hydrophobic surface can be made hydrophilic by various physical and chemical means including corona-discharge, gas plasma, and irradiation[62]. However, the necessity of expensive equipment required to realize complex chips from such polymer (injection molding, hot embossing) could be a hindrance for its use[63]. PS is adapted to mass manufacturing processes, thus it could facilitates translation of currently used manufacturing process to microscale systems.
Some PS microfluidic chips (protoypes) take advantage of the shrinkage properties of thermoplastic PS sheets. In fact, after heating, etched microfluidic channels become thinner and deeper than the tooling[64]. Faster than soft lithography, this technique includes a simultaneous rapid bonding step, and complex PS multi-layered microchips can thus be completed in a matter of minutes[65]. PS is the most commonly used material in cell-culture mainly due to its commercial availability and interesting price. This polymer has become central to cell culture research and due to its popularity, scientists are looking for potential use for it other than cell bio-assays[66].
Due to its popularity in this field, cell culture on microfluidic chip (organ-on-chip) can be a potential application[67]. It is possible to modify PS surface to enable cell adhesion and growth while also preventing bubble formation, and to that extent material can be treated with oxygen plasma prior to bonding[68]. However, plasma treatment can modify bond strength by altering the chemical composition at the surface of PS. alternatively, protecting the top surface with a masking layer is also an option. Another method could consist in pre-coating microchannels with extracellular matrix proteins prior to cell seeding, in order to promote cell adhesion[69]. The use of PS microfluidic chips also present other limitations such as difficulties encountered in the thermal bonding step[70]. Moreover, when width-to-height aspect ratios are too high considering microchannels, there are more channels collapsing[71].
II.2.2. Polycarbonate (PC) microfluidic chip
---
Polycarbonate (PC) is a durable material created by polymerization of bisphenol A and phosgene, resulting in repeating carbonate groups. PC is suited for DNA thermal cycling applications due to its transparency in the visible and its very high glass transition temperature (∼145 °C)[72]. The others advantages of PC are its low cost, high impact resistance, low moisture absorption and good machining properties[73].However, PC include poor resistance to certain organic solvents and absorbance in UV[74].
As previously mentioned, PC is the material of choice for a range of microfluidic applications in biomedical studies and bioanalyses that include polymerase chain reaction (PCR)[75]. This polymer also offers a convenient alternative to well established protocols based on lithography and molding in PDMS for fabrication of multilayer devices[76].
Although some scientists successfully built PC chips, they used thermal bonding procedures which is unfortunately known to be a process that doesn't provide good bonds even when the temperature is slightly too low[77]. Moreover, thermal bonding also significantly alters the geometry of the channels when the temperature is high enough to ensure bonding[78].
PC micro-features are fabricated by hot embossing with subsequent annealing of two layers using thermal bonding. It is possible to build peristaltic PC pumps, and this material also enable the creation of a continuous flow PCR in a device plate[79]. Microfluidic cassettes made of polycarbonate are able to perform sample lysis, enzymatic amplification, nucleic acid isolation, amplicon labeling, and detection of pathogens[80].
A microfluidic electrochemical biosensor chip entirely made of PC sheets can be fabricated for micro flow-injection amperometric determination of glucose[81]. To build a PC chip for this particular application, a microchannel network is embossed onto a PC sheet[82]. Micro-gold film electrodes bases are then prepared on a PC cover sheet with a photodirected electroless plating technique. This developed micro flow-injection biosensor system with PC can successfully be applied to the determination of glucose content in pharmaceutical injections[83].
II.2.3 Poly-methyl methacrylate (PMMA) microfluidic chip
---
PMMA is a cheap polymer which is the least hydrophobic one in the common plastic materials[84]. PMMA is a commonly used material in microfluidic systems, and it is particularly useful for disposable microfluidic chips because of its low price, rigid mechanical property, excellent optical transparency, and compatibility to electrophoresis[85]. This polymer also features others properties such as its ease of fabrication and modification[86].
Thanks to its ability to decompose into methyl methacrylate (MMA) at a high temperature, PMMA is an ideal material for preparing "green microchips" and can be reused [87]. Most of the time, PMMA microfluidic chips are usually composed of channel plates and cover plates (or cover films) that need to be bonded to form microfluidic chips of which the polymer material can be obtained via methods based on the in situ polymerization of MMA in molds[88].
Microfluidic systems in PMMA are easily produced by CO2-laser micromachining, a suitable method for controlling the dimensions of the microstructures fabricated[89]. Besides, there is a variety of methods developed for mass production of PMMA micro-devices with high fidelity, which include hot embossing, solvent imprinting, thermal bonding, injection molding and laser ablation[90]. PMMA has been used as substrates for a great number of microfluidic devices including mixing analysis chip, DNA sequencer and electrophoresis chip[91]. However, so far there are barely full PMMA valve or pumps reported[92].
Bonding techniques are of critical importance in the fabrication of PMMA-based microfluidic chips, and hot-press bonding is the most commonly employed method[93]. Others bonding techniques could be used with PMMA such as microwave bonding, thermal fusion bonding and adhesive bonding[94]. To prevent channel from collapsing during the bonding process, PMMA microfluidic chips have been developed by using specific solvent conditions and sacrificial materials such as paraffin wax[95].
II.2.4 Poly-ethylene glycol diacrylate (PEGDA) microfluidic chip
---
Poly(ethylene glycol) diacrylate (PEGDA) is a material sharing some properties with PDMS such as water stability, optical clarity, and low background fluorescence[96]. However, it shows less nonspecific adsorption and has greater resistance to permeation of small hydrophobic molecules than PDMS[97].
This polymer could be considered as a convenient material since polymerization can occur rapidly at room temperature and doesn't require too much energy. Considered biologically inert, this polymer has good and variable mechanical properties which could explain its frequent use for tissue engineering as scaffolds. Poly-PEGA can be used to build robust microfluidic valves and pumps in different shapes for application in small volume assays[98]. Microfluidic devices made of poly-PEGA are usually fabricated using similar fabrication processes to polydimethylsiloxane[99]. Though poly-PEGDA elastic modulus (∼0.1 GPa) is too high for use in self-collapsing valves, it has strong potential for application in latch-valve designs[100].
Due to its resistance to nonspecific adsorption, poly-PEGA can have broad use in small volume analysis and biomedical research since it is a biocompatible polymer. Moreover, this material is not immunogen, and also resistant to protein adsorption, however it doesn't permit cell adhesion[101].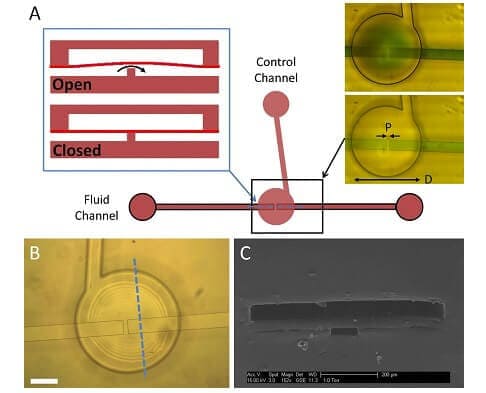 Schematic of a three-layer poly-PEGDA valve. (A) The left inset is a cross-sectional view along the dashed line for an open or closed valve. Top-view images on the right show an open (top) and closed (bottom) valve with green dyed fluid added for contrast. Valve diameter (D) is 700 m, pedestal width (P) is 30 m, and the fluid channel width is 100 m. (B) Top-view photomicrograph of a valve before filling with liquid. Interference fringes indicate that the membrane is deflected upward after the final bonding step. White scale bar is 200 m. (C) SEM of a three-layer valve device cross-section along the dashed line in (B)-From Rogers et al. 2013
II.2.5
microfluidic chip made of Teflons: Perfluorinated compounds (PFEP/ PFA/PFPE) 
---
The fabrication and usage of all-Teflon chips with excellent solvent resistance is quite recent[102]. Teflons are extremely inert to chemicals and solvents, they also present nonsticky and antifouling properties[103]. They are optically transparent, soft enough to make diaphragm valves, and moderately permeable to gases[104]. Although their melting temperatures are high (over 280 °C), it is possible to generate complex microstructures with nanometer resolution with high-temperature thermo-molding and thermally bond the material to form various microfluidic devices[105]. Moreover, micro-structured features made of perfluorinated compounds maintain their elastomeric properties up to 200 °C[106].
Perfluorinated compounds inertness makes them attractive for microfluidics. In fact, the material surface is not only oleophobic but also hydrophobic[107]. Most fluoro-elastomers are polyfluoropolyethers, and are sometimes described as "liquid Teflon[108]. Two particular perfluorinated polymers, perfluoroalkoxy (Teflon PFA) and fluorinated ethylenepropylene (Teflon FEP), are used to build microfluidic devices and structures[109]. Those materials are thermo-processable and can be thermally bonded to other material to create composites such as glass−FEP used to build latch-valve devices, which are even resistant to highly corrosive solutions[110]. However, the bonding of perfluorinated materials to glass and similar substrates tends to be very weak[111].
PFA is a slightly opaque perfluorinated compound, and its optical transparency still allows use of fluorescence and cellular imaging[112]. Being one of the most promising materials for the fabrication of cheap, solvent resistant and reusable microfluidic chips (can be recycled for multiple uses without risk of contamination), PFA requires high-temperature hot embossing (∼260 °C) to mold devices, hence the use of a high-density and densely crosslinked PDMS mold[113]. It's an appealing material  due to its melt-processability by conventional thermoplastic processing methods, optical transparency, adequate mechanical strength, resistance to elevated temperatures, organic solvents, corrosion and stress-cracking, as well as to molecular adsorption and molecule leaching from the polymer bulk to solutions[114].
Some microfluidic devices utilize polyfluoropolyether diol methacrylate (PFPE-DMA) because of to its numerous attractive properties. PFPE-DMA is viscous liquids at room temperature prior to curing and exhibit low surface energy and high durability and toughness[115]. Besides, this material is extremely chemically resistant, possesses high gas permeability, and low toxicity[116]. Polyfluoropolyether diol methacrylate could be utilized to make valves similar to ones in PDMS, and it shows less swelling in the presence of organic solvent with a Young's modulus of 3.9 MPa[117]. Though this value is 10 times higher than PDMS, it still possible to use this class of materials for valve applications[118]. FPE-DMA could be molded with resolutions as small as 50 nm, and UV-cured PFPE can be bonded strongly to PDMS[119].
Potocurable PFPEs have the potential to greatly extend the use of microfluidic devices to a wide variety of new chemical applications[120]. With the added advantage of photocuring capability, the production time of microfluidic devices can be reduced from several hours to a matter of minutes. Valves similar to ones in PDMS can be fabricated in polyfluoropolyether diol methacrylate[121]. Besides, PFPE channels shows no evidence of swelling as solutions traveled easily through them, and unlike PDMS, PFPE is compatible with all solvents involved in DNA synthesis reactions. The channel features in this device design are widely spaced to simplify layer alignment[122].
All these Teflon micro-devices show cellular compatibility over 5 days and good gas permeability[123]. They also have low nonspecific protein adsorption compared with PDMS and PS[124]. Such low-cost and fast fabrication of chips presenting good and convenient properties could greatly extend and broaden future applications of microfluidics.
II.2.6. Polyurethane (PU) microfluidic chip
---
Polyurethane (PU) elastomers are characterized by their high-mechanical strength, resiliency, and good resistance to abrasion[125]. Polyurethanes have been widely used in various applications such as the artificial heart, intra-aortic balloons, pacemaker leads, heart valves, or hemodialysis membranes[126]. This class of materials presents hydrophobic surfaces that are essentially water repellent[127]. The utility of polyurethanes can be improved by making the surface more hydrophilic. A number of in vivo and in vitro studies have been carried out to assess the cellular and tissue responses of PU, and it is crucial to considerate its biocompatibility but also its protein adsorption[128]. To limiting non-specific adsorption, modification of the surface with hydrophilic polymers can be done[129]. It is also possible to use photo-chemical reactions or various grafting techniques for this purpose[130].
Although various methods for surface modification exist, such modification has been demonstrated on open surfaces or films of PU and not inside microfluidic channels[131]. Surface modification inside microchannels present a different set of challenges, such as rapid depletion of reagents due to high surface to volume ratio that the modification chemistry has to take into account[132].
Traditionally, solvent moulding techniques such as vertical dipping, rotating mandrel and rotating plate are used to fabricate PU parts such as sheets, membranes and tubing. The rotating plate method is used for fabricating PU films and sheets, while vertical dipping and rotating mandrel are used for fabricating cylindrical parts, like tubing[133]. However, these fabrication techniques are not suitable for replicating the complex and detailed microscale features present in microfluidic devices[134].
PU-based microfabrication typically involves injection moulding, imprinting, plasma etching, sacrificial material and reaction polymerization, and these methods are not suited for rapid prototyping as they use high-cost intermediate moulds and expensive fabrication equipment[135]. Moreover, the substrates produced are rigid and not transparent, that is why solvent casting is more suitable since intermediate moulds can be fabricated using photolithography and the fabrication equipment is low cost[136]. However, the substrates that are produced are opaque, do not bond well and are difficult to connect with tubing[137].
III. Paper microfluidic chip
---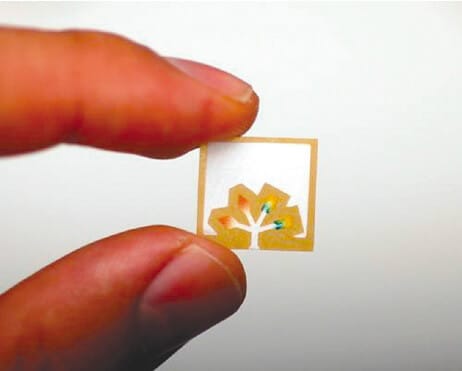 Paper is a flexible, cellulose-based material that has recently become as a promising microfluidic substrate for several reasons[138]: this biocompatible material is a cheap substrate that can readily be chemically modified through composition/formulation changes or through surface chemistry. Easily available around the world, paper  can be simply disposed by burning or natural degradation. However, paper can only be used for a limited type of applications due to its weak mechanical properties and limited technologies. Papper can be used for biochemical analysis and medical and forensic diagnostics. Detection of analytes in paper microfluidics can be either colorimetric, electrochemical, chemiluminescence, and electrochemiluminescence. However, most paper microfluidic analytical devices rely on colorimetric detection. Paper-based microfluidics rely on the passive mechanism of capillary action to pull solutions through a device.
Methods available for patterning process are numerous and they define the width and length of paper microfluidic channels, with each method having its own set of advantages and limitations. For instance, inkjet and solid wax printing enable easy pattern definition and functionalization. Paper porous structure also allows for a combination of flow, filtering, and separation. paper is biologically compatible, and the normally white background provides a contrast for color-based detection methods.
 IV.Hydrogels
---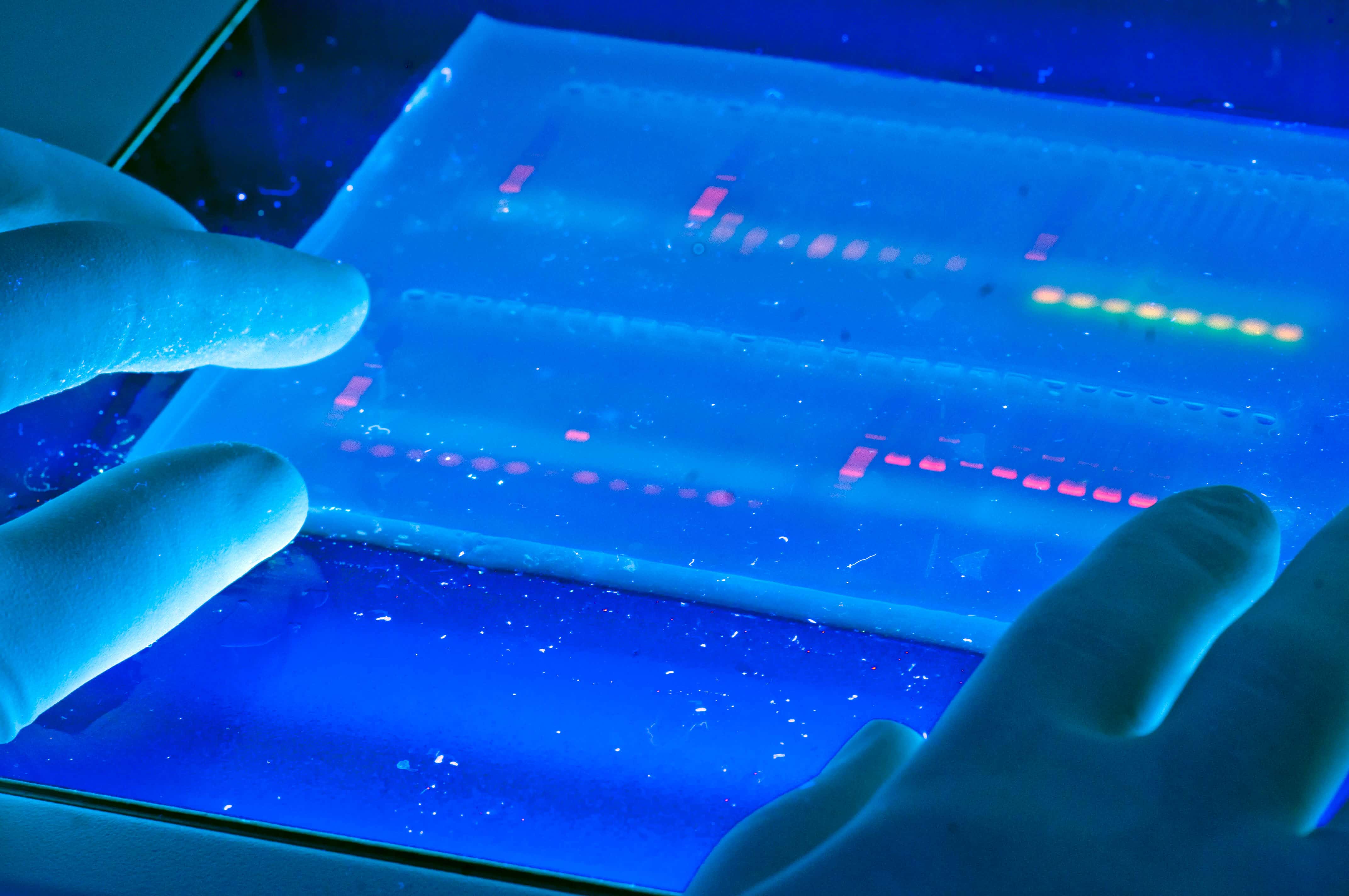 Microfluidics has been increasingly involved in biological research and bio mimicking. Hydrogels, resembling the extracellular matrix, have been widely used to serve as cell support for various applications. The applications of hydrogel devices are mostly cell related unlike PDMS devices that are more commonly used to study tissue-level cell culture[139]. Microchannels can be built in the hydrogels for the delivery of solutions, cells, and other substances[140]. Hydrogels are 3D networks of hydrophilic polymer chains that situated in aqueous medium, mainly composed of water. They are highly porous with controllable pore sizes, allowing small molecules or even bioparticles to diffuse through[141].
The diffusion of nutrition and oxygen through gel is not adequate to support thick layer cell culture; the cells may behave differently along the gradient, and most of the time necrosis starts to occur at the depth of several hundred micrometers[142]. The introduction of microfluidic channels into the gel matrix can realize rapid mass transfer through the bulk, offering similar function as the natural bifurcating blood system, allowing bulk 3D culture of cells[143].
Due to low density at the macromolecule scale (and low strength), hydrogels support only lower resolution (micrometer scale) in microfabrication than other polymers (nanometer scale)[144]. In addition, hydrogels with cells encapsulated may not be compatible with some microfabrication processes[145]. To create microchannels, two methods are adopted. One is the direct writing method, including LDW and gelation of gel solution from a moving nozzle, which can generate arbitrary 3D structures with low speed. The other involves two steps: generation of channels followed by channel sealing[146].
Most hydrogels are gelled at mild conditions in aqueous solutions; thus, they can be molded from masters made of almost any material insoluble in water[147]. In contrast to the ease in molding, the bonding is challenging. Normally, hydrogels generally do not stick with simple contact. Reported bonding strategies include melting a thin layer of the bonding surface by heating or chemicals right before attaching; utilizing a second linking agent at the interface[148].
III. Materials for Microfluidic Chips Fabrication: Composite Materials
Cyclic-olefin copolymer (COC) microfluidic chip
---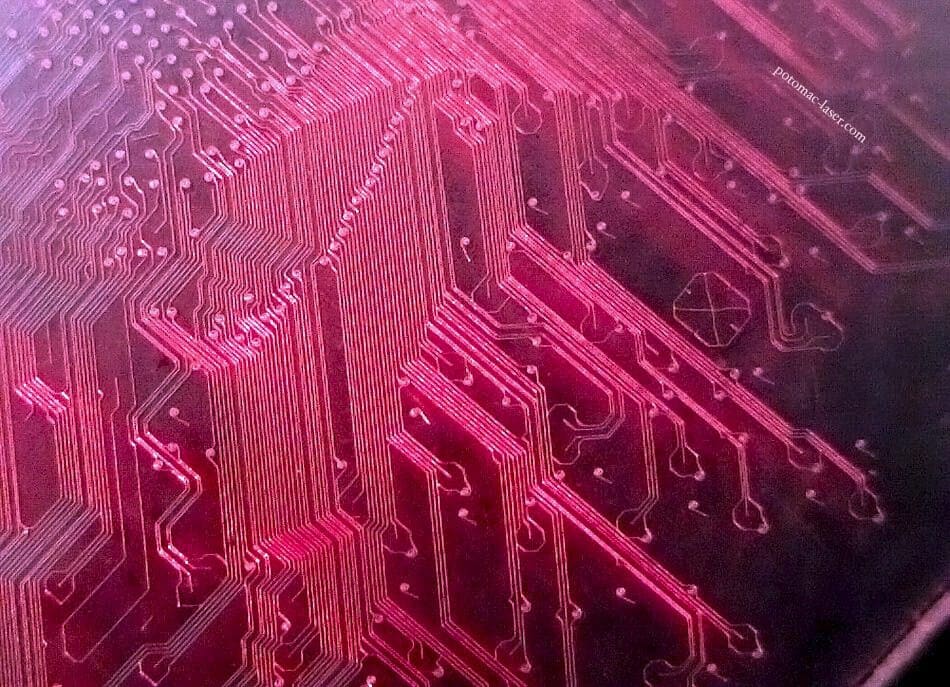 Amorphous material, cyclic olefin polymers (COP) are a class of polymers based on cyclic olefin monomers and ethene. There are many COP materials commercially available but under different brand names. Since the polymers are made from more than one type of monomer, they are usually referred to as cyclic olefin copolymers (COC). They are synthetized by chain copolymerization of cyclic monomers with ethene, or by ring-opening polymerization of various cyclic monomers followed by hydrogenation.
Cyclic olefin copolymer is a new polymer that present interesting properties compared to commonly employed thermoplastics that have been used for quite a time now such as PC and PMMA[149]. COC is relatively easy to fabricate (good moldability) and is a low cost material[150]. That's why it is widely used in microfluidics aside from its innovative properties including excellent optical transmission, biocompatibility and high chemical resistance[151]. This class of material has a low moisture absorption rate, a high water barrier and heat resistance too[152].
However, COC also presents a number of potential disadvantages, such as brittleness and low heat diffusivity, which may limit its use in some applications[153]. This material can also be attacked by non-polar organic solvents, such as toluene and hexane.  Besides, COC Microfluidic devices necessitate surface modification to separate hydrophobic compounds since the material present strong hydrophobic interactions[154]. To reduce adsorption (of proteins or other compounds), The COC chip surface can be coated using UV-initiated grafting of polyacrylamide for instance[155]. Coating the inner walls of microchannels also keeps a low electroosmotic mobilities while increasing the hydrophilicity of the channels walls[156].
Using cyclic olefin copolymers as the molding material, the higher the molding temperature and compression force, the less the COC microfluidic chip thickness decreases[157]. As for patterning on COC, pattern transfer fidelity is independent of the molding temperature and compression force[158]. Whitening caused by mechanical stress on the device surface is due to the molding temperature and the cooling rate of the mold/device assembly[159]. Finally, the bond strength between the layers of a laminated device is function to the lamination temperature[160].
Paper/Polymer hybrid microfluidic chip
---
Microfluidic immunoassay devices have interesting features such as high surface-to-volume ratio and microliter volumes of microchannels, which however leads to significant decrease in analysis time from hours to minutes[161]. To address issues from conventional microplates, microplate-format microfluidic devices have been developed for immunoassays, but even then, they had to be adapted to be suitable for bioassays. They are mainly employed for Enzyme linked immunosorbent assay (ELISA), one of the most widely used laboratory disease diagnosis methods. Performing ELISA in low-resource settings is limited by long incubation time, large volumes of precious reagents, and well-equipped laboratories[162].
Miniaturized paper/polymer hybrid microfluidic microplates (PMMA, PDMS, etc) are developed to address the issue mentioned above and to reduce costs[163]. Paper-hybrid devices are based on paper microfluidic chips concept while correcting its drawback[164]. They enable rapid immobilization of biomolecules and offer high performance in flow control, feature that purely paper based devices can't operate[165]. For instance, some PDMS/paper hybrid microfluidic system have been developed, and paper facilitates the integration of graphene oxide-based nanosensors on the chip, without any complicated surface treatment[166].
Those hybrid devices show high throughput, and facilitate point-of-care disease diagnosis[167]. One of their numerous advantages is to avoid complicated surface modifications mandatory when using polymers (PEI or APTES treatment, CNT functionalization) [168]. To that extent, rapid antibody/antigen immobilization and efficient washing is performed by using porous paper in flow-through micro-wells[169]. Micro-channels can transfer reagents to multiple micro-wells, method more convenient and accurate that repeated manual pipetting or costly robots[170]. Moreover, results of colorimetric ELISA can directly be observed within an hour without the help of measuring instruments like fluorescence microscopy [171].
Materials for Microfluidic Chips Fabrication: conclusion
---
Since its introduction, microfluidics keeps advancing along with technology, and the micrrofluidic application field is also expanding to many other disciplines. Biological and medical applications are a major focus of current research along with other areas. In terms of materials and functions, while glass and silicon have important uses, polymeric materials have become the material of choice in this field,  and each comes with its own advantages and disadvantages. Though PDMS is still the more commonly used microfluidic material substrate, new materials and composites presenting interesting features are created in order produce weven more adapted to mass production with lower-price and greter adaptability. In fact, a reliable materials must not only be adapted to the application the device is meant to but also present .
Microfluidics is multidisciplinary and requires continued coordination between different fields, engineering as well as physical and biological sciences, to keep improving and find materials which advantages completely outbalance the drawbacks and issues. Finally, some material are used to built affordable eco-friendly devices that could be disposed of after use such as paper based microfluidic chips.

REFERENCES
[1-2] "Materials for Microfluidic Chip Fabrication    Wu et Al. 2013."
[3-4] "Advances in Microfluidic Materials, Functions, Integration, and Applications    Nge et Al. 2013."
[5-7] "Materials for Microfluidic Chip Fabrication    Wu et Al. 2013."
[8-10] "Advances in Microfluidic Materials, Functions, Integration, and Applications    Nge et Al. 2013."
[11-13] "Materials for Microfluidic Chip Fabrication    Wu et Al. 2013."
[14] "Advances in Microfluidic Materials, Functions, Integration, and Applications    Nge et Al. 2013."
[15-17] "Materials for Microfluidic Chip Fabrication    Wu et Al. 2013."
[18] "Advances in Microfluidic Materials, Functions, Integration, and Applications    Nge et Al. 2013."
[19] "Materials for Microfluidic Chip Fabrication    Wu et Al. 2013."
[20-26] "Advances in Microfluidic Materials, Functions, Integration, and Applications    Nge et Al. 2013."
[27-28] "Materials for Microfluidic Chip Fabrication    Wu et Al. 2013."
[29] "Advances in Microfluidic Materials, Functions, Integration, and Applications    Nge et Al. 2013."
[30-32] "Materials for Microfluidic Chip Fabrication    Wu et Al. 2013."
[33] "Polyurethane-Based Microfluidic Devices for Blood Contacting Applications    Wu et Al. 2012."
[34] "Advances in Microfluidic Materials, Functions, Integration, and Applications    Nge et Al. 2013."
[35] "Materials for Microfluidic Chip Fabrication    Wu et Al. 2013."
[36] "Advances in Microfluidic Materials, Functions, Integration, and Applications    Nge et Al. 2013."
[37-38] "Materials for Microfluidic Chip Fabrication    Wu et Al. 2013."
[39] "Advances in Microfluidic Materials, Functions, Integration, and Applications    Nge et Al. 2013."
[40] "Materials for Microfluidic Chip Fabrication    Wu et Al. 2013."
[41] "Advances in Microfluidic Materials, Functions, Integration, and Applications    Nge et Al. 2013."
[42] "Materials for Microfluidic Chip Fabrication    Wu et Al. 2013."
[43-51] "Advances in Microfluidic Materials, Functions, Integration, and Applications    Nge et Al. 2013."
[52] "Materials for Microfluidic Chip Fabrication    Wu et Al. 2013."
[53] "Advances in Microfluidic Materials, Functions, Integration, and Applications    Nge et Al. 2013."
[54-62] "Materials for Microfluidic Chip Fabrication    Wu et Al. 2013."
[63] "Advances in Microfluidic Materials, Functions, Integration, and Applications    Nge et Al. 2013."
[64-65] "Shrinky-Dink Microfluidics: 3D Polystyrene Chips    Chen et Al. 2008."
[66-71] "Rapid Prototyping of Arrayed Microfluidic Systems in Polystyrene for Cell-Based Assays    Young et Al."
[72] "Advances in Microfluidic Materials, Functions, Integration, and Applications    Nge et Al. 2013."
[73-78] "Bonding of Microfluidic Devices Fabricated in Polycarbonate    Ogonczyk."
[79-80] "Advances in Microfluidic Materials, Functions, Integration, and Applications    Nge et Al. 2013."
[81-83] "In-Channel Modification of Biosensor Electrodes Integrated on a Polycarbonate Microfluidic Chip for Micro Flow-Injection."
[84-85] "PMMA/PDMS Valves and Pumps for Disposable Microfluidics    Zhang et Al. 2009."
[86-88] "Fabrication, Modification, and Application of Poly(methyl Methacrylate) Microfluidic Chips    Chen et al.2007."
[89-94] "PMMA/PDMS Valves and Pumps for Disposable Microfluidics    Zhang et Al. 2009."
[95] "Fabrication, Modification, and Application of Poly(methyl Methacrylate) Microfluidic Chips    Chen et al.2007."
[96-97] "Single-Monomer Formulation of Polymerized Polyethylene Glycol Diacrylate as a Nonadsorptive Material for Microfluidics  ."
[98-99] "Single-Monomer Formulation of Polymerized Polyethylene Glycol Diacrylate as a Nonadsorptive Material for Microfluidics  ."
[100] "Advances in Microfluidic Materials, Functions, Integration, and Applications    Nge et Al. 2013."
[101] "Single-Monomer Formulation of Polymerized Polyethylene Glycol Diacrylate as a Nonadsorptive Material for Microfluidics  ."
[102-103] "Advances in Microfluidic Materials, Functions, Integration, and Applications    Nge et Al. 2013."
[104-105] "Materials for Microfluidic Chip Fabrication    Wu et Al. 2013."
[106-113] "Advances in Microfluidic Materials, Functions, Integration, and Applications    Nge et Al. 2013."
[114] "Surface Cell Immobilization within Perfluoroalkoxy Microchannels    Gorazd et Al. 2014."
[115-116] "Advances in Microfluidic Materials, Functions, Integration, and Applications    Nge et Al. 2013."
[117] "Materials for Microfluidic Chip Fabrication    Wu et Al. 2013."
[118-119] "Advances in Microfluidic Materials, Functions, Integration, and Applications    Nge et Al. 2013."
[120] "Materials for Microfluidic Chip Fabrication    Wu et Al. 2013."
[121-124] "Advances in Microfluidic Materials, Functions, Integration, and Applications    Nge et Al. 2013."
[125] "Polyurethane from Biosource as a New Material for Fabrication of Microfluidic Devices by Rapid Prototyping    Piccin et ."
[126-137] "Polyurethane-Based Microfluidic Devices for Blood Contacting Applications    Wu et Al. 2012."
[138] "Advances in Microfluidic Materials, Functions, Integration, and Applications    Nge et Al. 2013."
[139-148] "Materials for Microfluidic Chip Fabrication    Wu et Al. 2013."
[149-153] "Optical Properties of Cyclic Olefin Copolymers    Khanarian et Al. ."
[154-156] "Isoelectric Focusing in Cyclic Olefin Copolymer Microfluidic Channels Coated by Polyacrylamide Using a UV Photografting ."
[157-160] Fredrickson et al."Effects of Fabrication Process Parameters on the Properties of Cyclic Olefin Copolymer Microfluidic Devices."
[161-171] "A Paper/Polymer Hybrid Microfluidic Microplate for Rapid Quantitative Detection of Multiple Disease Biomarkers."
For more tutorial about microfluidics, please visit our other tutorials here: «Microfluidics tutorials».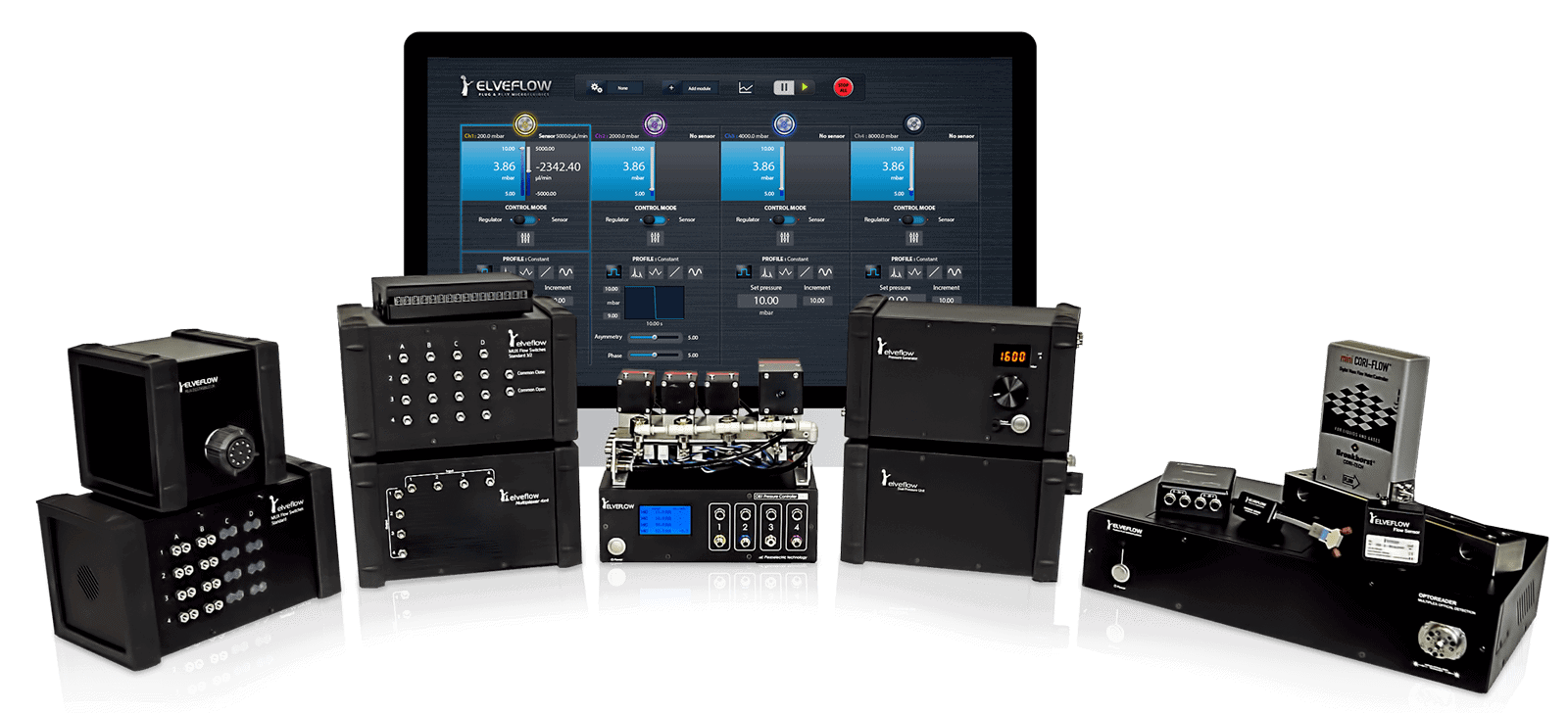 WORLD LEADER IN HIGH PERFORMANCE MICROFLUIDIC FLOW CONTROL
We  provide the only microfluidic flow control system using Piezo technology that enables a blazing fast flow change in your microdevice.