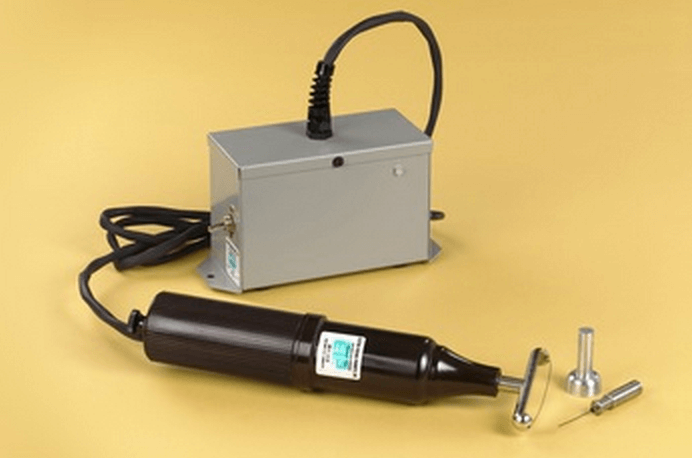 CORONA SB - Easily bond your PDMS
.
> High strength 

PDMS / Glass link
> Manual 

PDMS bonding
> Quick and Easy 

PDMS bonding
> Cheap and Efficient 

solution
Get Quote or Technical Information
(We will answer within 24 hours)
The Corona SB equipment enables a quick and easy treatment surface, and namely it can be used to bond PDMS with glass or PDMS. Indeed the Corona SB tool will change surface properties in much the same way as a traditional plasma cleaner treatment.
In the case of PDMS bonding, the Corona SB functionalized the surface and enables a strong link in less than one minute.
How it works
The Corona SB is a high frequency generator, it produces a high voltage, high frequencies spark at the tip of an electrode. The electric field created around the electrode is used for surface treating of polymers.
Maintenance and hazard
The Corona SB needs to be used in proper manners. It emits a high frequency, high voltage spark but is totally safe if the safety instructions are respected. If you want more information, please contact us.
Performance
Highly adjustable:
The output power can be adjusted from 10 000 volts to 48 000 volts.
The distance and the time of treatment can also be adjusted as wanted.
Thanks to the different electrodes you can focus on different zones.
These highly changeable parameters enable almost all possibilities for a surface treatment.
Easy to use:
Switch on the Corona SB and that's it. The electric field is working, you can now adjust it by turning the knob.
High performance:
A lot of different time and power parameters allow a prefect surface treatment and bonding. Only few instructions enable to succeed your treatment each time.
Majors strengths
High strength PDMS-glass and PDMS-PDMS bonding link.
Quick and Easy PDMS bonding.
Works for surface treatment such as PDMS bonding.
Quick change of hydrophobicity of the surface.
Cheap and efficient solution.
Corona SB specifications
Weight
3.2kg (7lbs)
Power supply
110V or 230V; 50/60Hz
Dimension power supply (HxWxD)
105x197x80 (in mm)
Dimension generator (LxDiam)
280×64 (in mm)
Length of the cord
1.8 m
Electric field power
Adjustable
Output Voltage
10 000 to 48 000 volts
Frequency
from 4 to 5 MHz
Electrode

Round (2,54cm)
Field effect (7,62cm)
Point effect
Begin with

 Soft-lithography ?
Do your own  SU8 Mold and PDMS chips
> We install everything &

 train your team in 1 week
> Plug and play

soft-lithography protocol
> Get the highest resolution

without clean room