Perfusion Pack - For microfluidic chips and perfusion chambers
A fluidic system dedicated to cell culture
Elveflow® provides a perfusion system dedicated to cell culture, for lab-on-chips and perfusion chambers. This fully integrated solution includes all the necessary elements to create a continuous flow and monitor flow rate applied on the cells.
Switch between up to 10 different medium or reagents 
For experiments requiering switches between different culture medium or drugs, a computer-controlled valve allows sequential injection.
Principle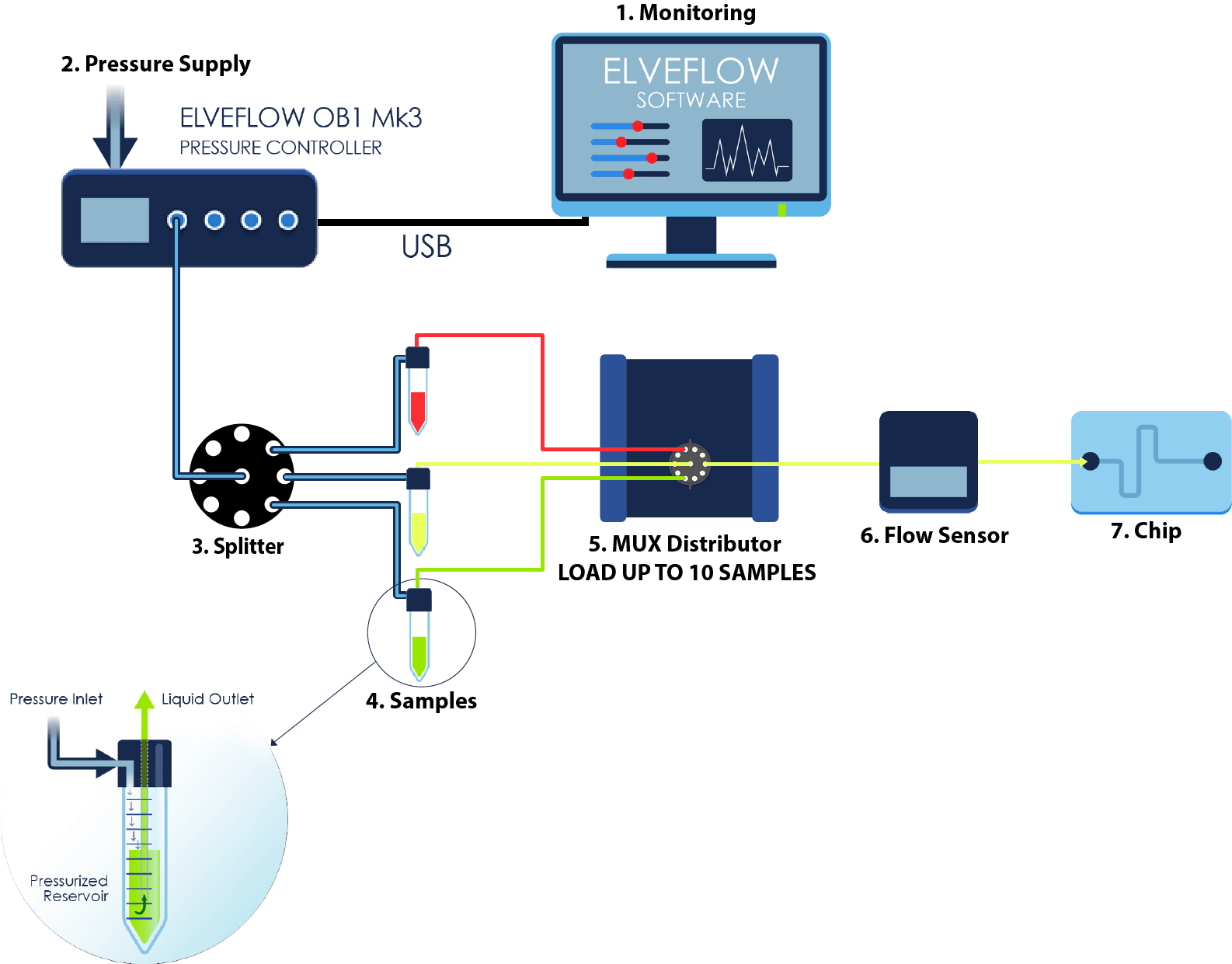 Control both pressure & flow rate
Ideal for shear stress assays
Perform fast switches between medium or drugs
For imaging cell's response to various media or drugs
Stable & pulseless flow rate
No more coverslip expansion and cell stress
Large range of flow rates
From 10nL/min to 5 mL/min
Design flow injection sequences
Create complex patterns, such as oscillating flow to mimic physiological conditions
For controlled solution exposure experiments, such as calcium imaging
Pressure & flow controller
Pressure & Flow controller: Impose a given pressure in order to create a stable and pulseless flow rate.
Reservoirs: Contain your medium or samples. Various sizes are available, from Eppendorf to bottles.
Rotative valve: Select the injected liquid.
Flow Sensor: Monitor and control the flow rate in live time.
Perfusion chamber or microfluidic chip: Contains your cells. Compatible with microscopy.
Computer: Control all the parameters with our software, and automate your experiment by creating injection sequences.
Cell response to medium change
Related Products & services