OPTOREADER – Optical detection for microfluidics
Optical Reader for Microfluidics: the OptoReader brings about the strength of duplex optical fiber measurement, high optical sensitivity and real-time processing capacity within a compact design. It offers the same performance as a microscope while being more cost effective. The use of optical fiber for both illumination and light collection largely frees up the space around the experiment and reduces the optical alignment to only one step.
ENHANCE FLUORESCENCE DETECTION & QUANTIFICATION
Attributes
High throughput detection: 100 kHz acquisition
High fluorescence sensitivity: < 1 nM FITC (0.3 fW/√Hz or 800 photons/√Hz)
Optical fiber-based design: compact and versatile integration
TTL Triggers
Plug & Play: USB connection, OptoReader functions with the Elveflow software suite and the provided SDK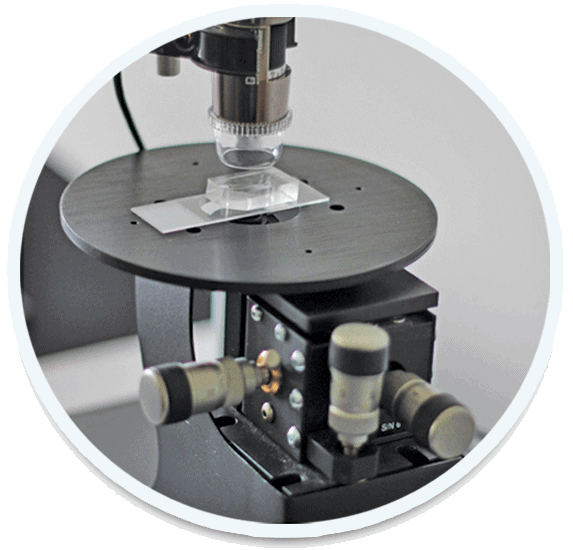 2 AVAILABLE VERSIONS:
OptoReader Single: Measurement of fluorescence or reflection
OptoReader Duo: Simultaneous measurement of fluorescence & reflection.
with
Custum filter set: 9 types of fluorophores

Custom excitation wavelength: from UV to IR
MANY OTHER OPTIONS ARE AVAILABLE ON REQUEST:
High sensitivity: cooled sensor 25x more sensitive fluorescent detection.
LED or LASER source
Alignment platform: Micrometric alignment table allowing beam alignment in a microfluidic chip.
Focalization optics: Optics for focalization of the light beam in a spot of few micrometers.
Multi wavelength fluorescence detection: up to 4 colors
Lock in detection: For very low light detection.
Customer inspired: Contact us for original propositions inspired by your needs!
PROPERTIES

SPECIFICATION

EXCITATION

Excitation wavelength

365nm, 470 nm, 530 nm, 590 nm, 625 nm

Fluorescence filter Set

DAPI, FITC, TRITC, Texas Red, Cy5

Power

0-1.5 mW (470 nm LED)

Pulse duration (pulse mode)

10 µs-10 s

Frequency (Lock-in mode)

50 Hz-10 kHz

ACQUISITION

Acquisition frequency

0-100 kHz

Acquisition resolution

16 bits

Typ. acquisition dynamic

84 dB

Bandwidth

 

Range

 

Reflection

Fluorescence

100 kHz

0-12 µW

0-120 nW

10 kHz

0-3.6 µW

0-36 nW

1 kHz

0-1.2 µW

0-12 nW

100 Hz

0-360 nW

0-3.6 nW

10 Hz

0-120 nW

0-1.2 nW

1 Hz

0-36 nW

0-360 pW

Noise equivalent power

Reflection

10 µW/Hz1/2

Fluorescence

Base

1.4
fW/Hz1/2

(3.7 x 103 photons/Hz1/2)

Hypersensitive (Analog)

0.3 fW/Hz1/2

(800 photons/Hz1/2)

Hypersensitive (Digital)

10 kcps

Photoelectric sensitivity (532 nm)

Reflection

0.5 x 106 V/W

Fluorescence

Base

2 x 109 V/W

Hypersensitivity

1010 V/W

Minimal equivalent fluorescence background

(Specified on normal mode, virtually zero in lock-in mode)

< 1 nM FITC

OPTICS

Fiber core diameter

Numerical aperture

0.22 – 0.6

Focalized spot diameter

36 µm, 143 µm, 286 µm

MECHANICS

Size Lxlxh (cm3)

35 x 25 x 12
Detection limit : <1nM FITC (available option with photon counting capability).
Other wavelength and focalized spot diameter available on request.
These specifications are not contractual and can be changed without notice.
USB flow sensor software module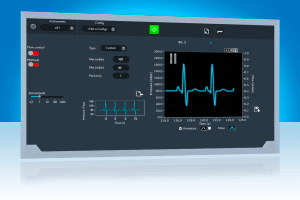 Thanks to an intuitive interface, the Elveflow® Smart Interface enables the use of Elveflow® instruments from the simplest commands for beginners to the most complex manipulations for experts… read more
Control your experiments through C, Python,  Matlab®, Labview® or the Elveflow® Smart Interface. The Elveflow® Smart Interface is a software application offering all the functionalities that microfluidicists need.
T. Houssin, J. Cramer, R. Grojsman, L. Bellahsene, G. Colas, H. Moulet, W. Minella, C. Pannetier, M. Leberre, A. Plecis and Yong Chen. Ultrafast, sensitive and large-volume on-chip real-time PCR for the molecular diagnosis of bacterial and viral infections. Lab on a Chip, Feb 2016, DOI: 10.1039/c5lc01459j
Case Study Detection of fluorescent droplets using the Optoreader