HOW TO GENERATE DROPLETS INSIDE A CAPILLARY
SET-UP TIME : 10-15 MIN / DIFFICULTY : *****
Piezo technology
In this application note we have been working with the OB1 MkIII pressure controller. The piezoelectric technology used to perform pressure regulation allows great flow accuracy and ms response time.
Droplets generation
Droplets generation has a large scale of applications, such as emulsion production, single cell analysis, drug delivery, polymer beads or nanoparticles synthesis. Droplets can also be used as micro bioreactors for chemical or biochemical reactions.
When one wants to generate droplets, the following features are of interest.
real time droplets size modification.
real time modification of the generation frequency.
high reproducibility.
high monodispersity droplets.
Abstract
This application note describes how to generate controlled size millifluidic droplets in a capillary by regulating the pressure rate and/or by regulating the flow rate. It has been realized in the millifluidic scale. Chromatographic Teflon T-junction and capillary tubing are used as channels of the device.
Need advice to generate droplet in capillary ?










Feel free to contact us at:
contact@elveflow.com
Ask me your question
(We will answer within 24 hours)

DROPLET GENERATION PACK
The droplet generation pack has been designed to fit most common droplet generation needs of researchers. Whatever you need, feel free to contact us to discuss about your exact need and if necessary we will adapt the pack and chips to your particular research application. Moreover for most common additional needs we already propose on the shelf option.
Up to 10 000 droplets/sec
Flow rate: from 0.1 µL/min to 5 mL/min
Droplet size dispersion: 0.3%
Change of droplets content : 100 ms

Protocol
Using the Elveflow® smart interface to generate controlled size droplets:
Setup diagrams
The following diagrams illustrate the complete chain of the elements involved in this application note. You will need to assemble all these parts to set up your experiment and generate controlled size droplets.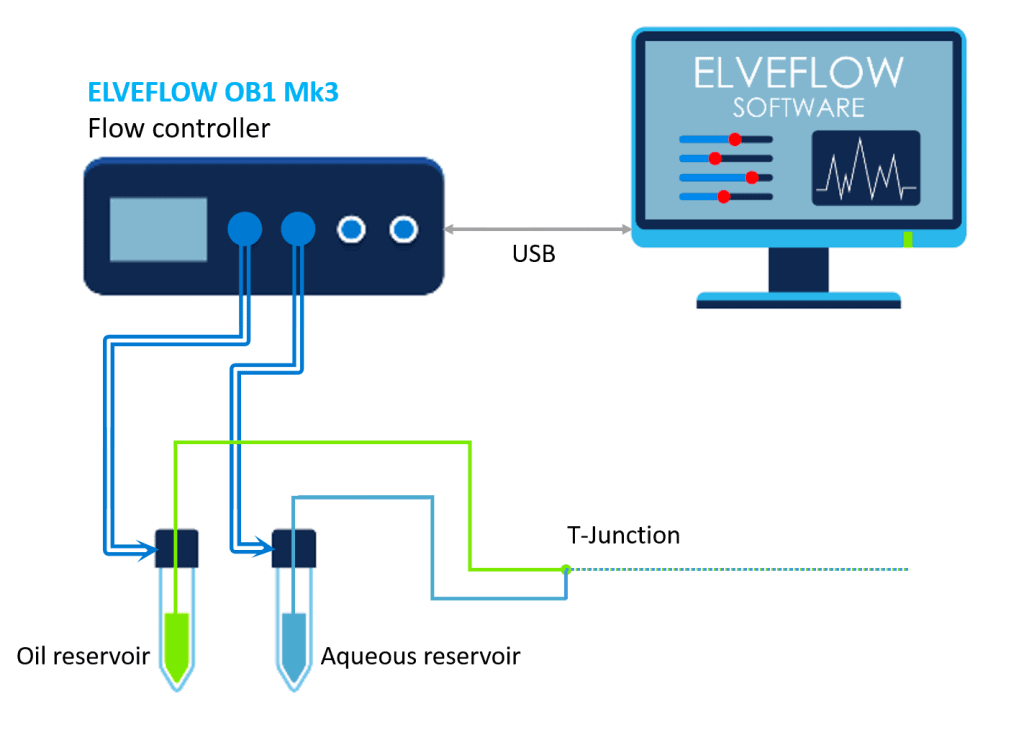 A) Monitoring the pressure to generate controlled size droplets:
The Elveflow® smart interface allows to control pressure for the oil and water samples.
One can also program sequences in order to generate droplet streams, oil plugs of controlled sized etc.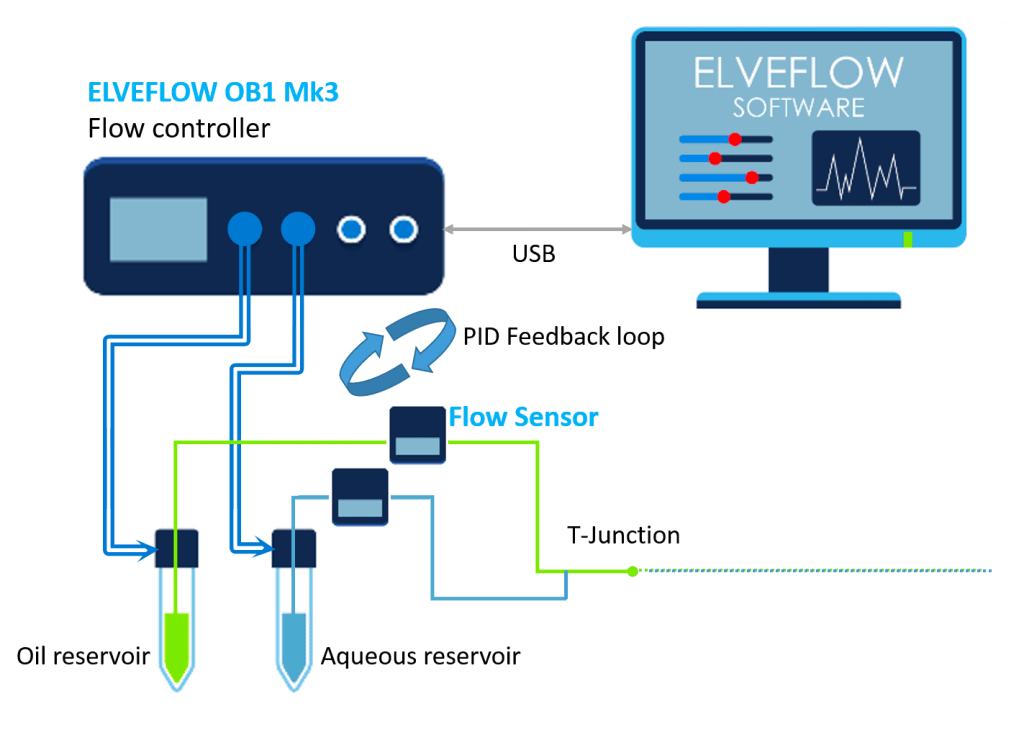 B) Monitoring the flow rate to generate controlled size droplets:
When coupled with Flow Sensors our controller enables to control the flow rate thanks to a PID feedback loop. One can request the flow values in the Elveflow® smart interface and the pressure controller will adjust the pressure consequently to reach the requested values.
Congratulations! You've achieved the generation of controlled-size droplets in a capillary using an Elveflow® Flow sensor and the Elveflow® pressure control instrument!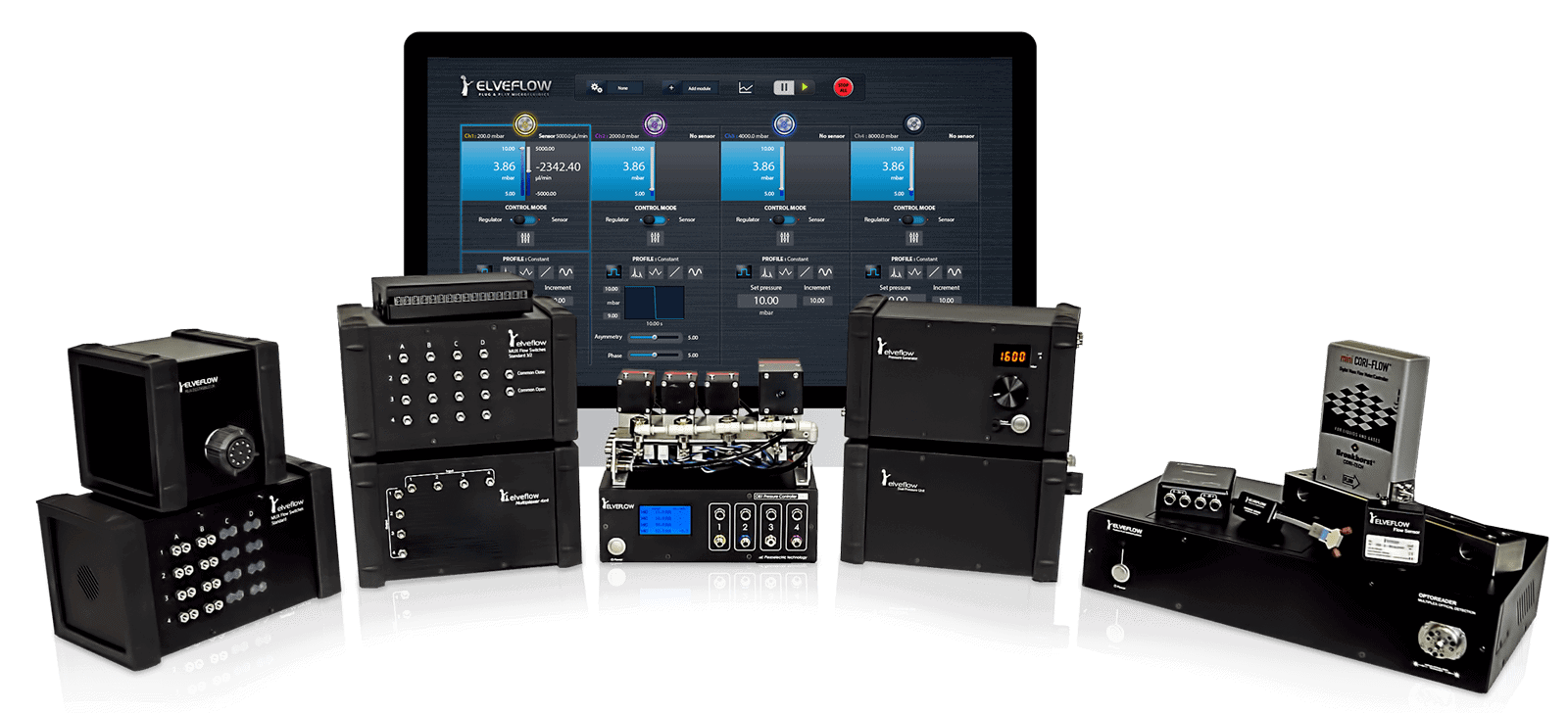 WORLD LEADER IN HIGH PERFORMANCE MICROFLUIDIC FLOW CONTROL
We  provide the only microfluidic flow control system using Piezo technology that enables a blazing fast flow change in your microdevice.