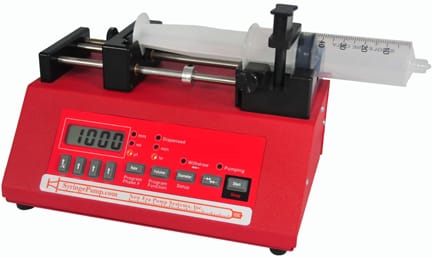 Interested by alternatives?
If you want to receive more information about our solution overcoming such features, please leave your email address!
Main microfluidic flow control features using syringe pumps
Settling time of the flow rate and transient period can vary from several seconds to hours depending on the fluidic system.
Discrete phenomena which look like oscillations or pulses sometimes appear due to the motor step.
Resistance of the device could increases (clogging, dust, high compliance…), and pressure generated by a syringe pump increases without limit…
The amount of fluid dispensed by the syringe pump is limited in volume.
Syringe pumps

VS

Pressure driven flow
See our review about pro/cons of Syringe Pump and Pressure Control Systems
Based on several customers feedback we review how to turn a pressure driven flow setup into a powerful syringe pump.
Informations related to syringe pumps & microfluidic flow control
Complete review of syringe pumps features in microfluidics here.
We also provide further information about flow control in microfluidics in this review
We provide a comparison between different technics to monitor fluids in microfluidics here.