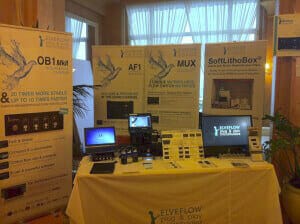 ELVESYS was at NanoBioTech-Montreux 2013  (Nov. 18 – 20, 2013)  to present his range of microfluidic instruments through live experiments  and to sponsor the poster session with a  prize to the best poster selected by the organizing committee.
NanoBioTech-Montreux 2013 is a unique conference at the frontiers of both Micro- and Nano- technology developments, with a special emphasis on Biological, Chemical and Medical applications. The conference is hosted in picturesque Montreux, with inspiring views of the Alps towering above Lake Geneva.
Because we believe that reliable experimental setups are the basis of innovative experiments, we offered an ELVEFLOW AF1 as a prize for the NanoBioTech-Montreux Best Poster Award. This Award is given to recognize excellence amongst the annual poster presenters. The committee reviewed all posters and gave the award to Alexandre Super, PhD candidate at University College London.
Congratulations to him and his lab, and to all attendees!