Okinawa, Japan from October 28 to November 1, 2012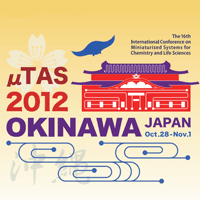 The Sixteenth International Conference on Miniaturized Systems for Chemistry and Life Sciences (µTAS 2012) continues a series of Conferences that are the premier forum for reporting and exchanging research results in microfluidics, microfabrication, nanotechnology, integration, materials and surfaces, analysis and synthesis, and detection technologies for life sciences and chemistry. The Conference offers plenary talks as well as contributed oral presentations and posters selected from submitted abstracts.
Come and visit Elveflow's booth to learn more about our solutions for accurate flow control and see our new OB1 pressure controller in action !