MSR - MICROFLUIDIC SENSOR READER
An acquisition interface for all your sensors inside your setup
The Sensor Reader is an interface allowing the acquisition of many kinds of analog sensors, including Elveflow pressure sensors and flow sensors. The Sensor Reader can be used to monitor flow rate, pressure, or other physical parameters on any type of flow control instrument (syringe pump, peristaltic pump, perfusion, pressure controller).
Monitoring and feedback control
Connect the Sensor Reader to your computer via USB and monitor measurements of your sensors using the Elveflow® Smart Interface. In addition to monitor, the Elveflow® Smart Interface also offers functions  to control OB1 pressure controlers in response to the measured values on your sensor (using a feedback loop). This allows a real-time control of a pressure or a flow rate anywhere in your microfluidic setup.
Sensor compatibility
The Sensor Reader embeds two independent power supplies which allows the use of a wide variety of sensors simultaneousy, functionning with different voltages for their power supply.
> See Elveflow® fully compatible pressure sensor & flow sensor
Get Quote or Technical Information
(We will answer within 24 hours)
Sensor Reader Sketch
You can have the sensors (pressure, flow rate,…) wherever you want in the setup in order to monitor your microfluidic experiment. The Sensor Reader module allows you to control 4 sensors simultaneously via our software and you can use several Sensor Readers if you need. It is an ideal supplement of the OB1 flow controller if you need to control all your experiment parameters.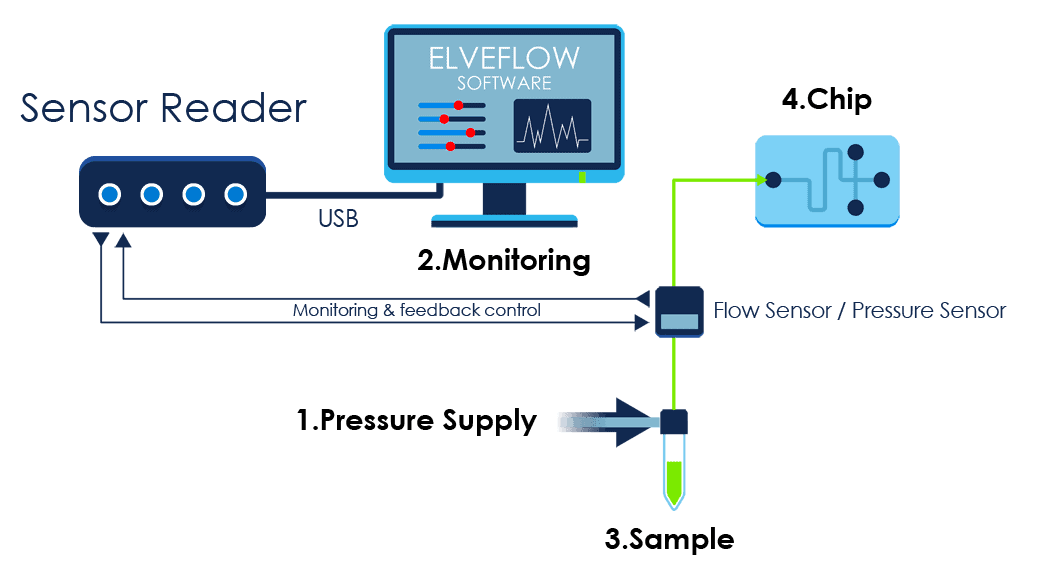 Sensor Reader Features & Benefits
SENSOR READER FOR MONITORING OR CONTROLLING THE MEASUREMENT OF YOUR SENSORS
Benefit in an optimal manner from the performance of Elveflow® Sensors with the Sensor Reader acquisition interface. The open interface Sensor Reader also allows you to use third-party sensors.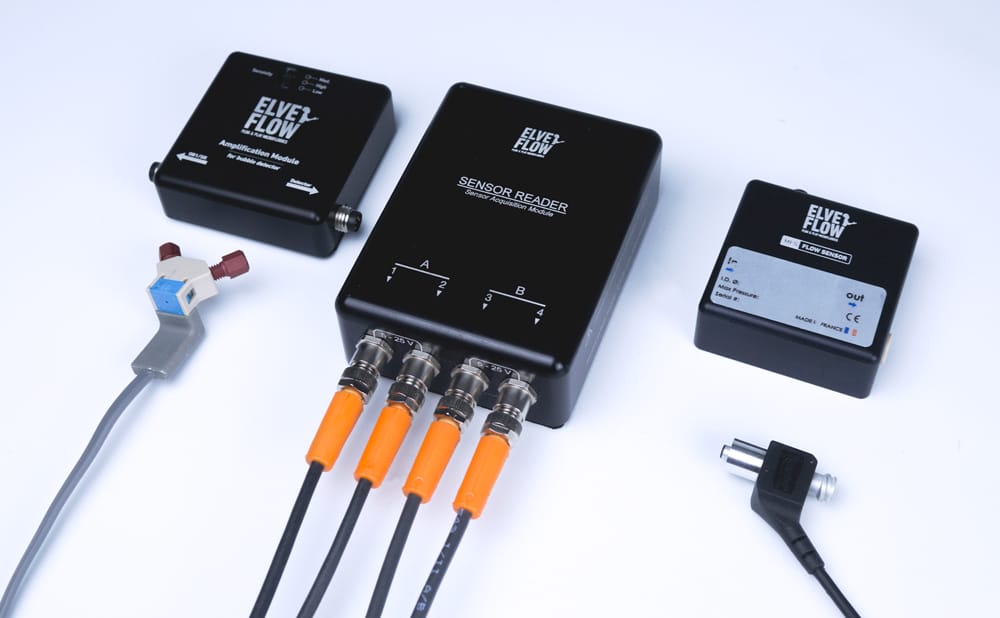 Fast and precise
With an acquisition sampling rate of up to 100 Hz and a 11 bit resolution, the Sensor Reader enables you to easily conduct experiments involving monitoring or controlling a physical parameter with analog sensors in real time .
Wide compatibility
Sensor Reader embed two independent power supplies ranging from 5 to 25 V (one for the channels 1-2, one for the channels 3-4). This allows the use of a wide variety of sensors functionning with different voltages for their power supply. Thus, up to four sensors working with 2 different voltages for their power supply can be monitored simultaneously.
> See Elveflow® fully compatible pressure sensor & flow sensor below
Noise reduction
An embeded analog 60 Hz low pass filter function can be activated on each channel independently to reduce sensor noise.
Software
Real time monitoring & FeedBack loops
Our Smart Interface enables you to control your setup after a few minutes of training. Sensor measurements can be  monitored in real time simultaneously with measurements of other Elveflow® apparatuses. Data can be logged and measurements can be used in interaction with other apparatuses to make feedback loops.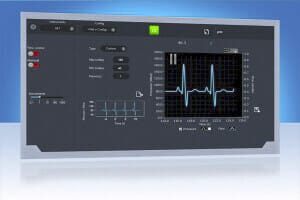 «Plug & Play Microfluidics» is not just a motto to us. Users will benefit from a control algorithm that ensures an extremely  sensitive and responsive flow rate regulation, while being very simple to operate.
Performance
Fitted for microfluidic
Our Sensor Reader achieveS a 11 bits resolution at up to 100 kHz sampling rate and a sub-resolution noise, for accuracy levels on your sensor measurements down to 0.05% of the full scale and response times down to 0.1 ms.
Sampling rate up to 10 kHz
Resolution : 11 bits (2048 cts)
3 ranges : 0-1 V, 0-5 V, 0-10V
Fully compatible with other Elveflow instruments
Measurement noise below resolution
Noise reduction function with a 3rd order 60 Hz lowpass filter
Elveflow® Pressure & Flow Sensor - Fully Compatible
We have already selected a wide range of sensors fitting microfluidics and perfectly integrated.
Flow Sensor
Resolution 1,5 pL/sec
Ranges from 0.07 to 5000 μL/min
Pressure Sensor 
Accuracy down to 0.2 % Full Scale
4 ranges from 5 psi (340 mBar) to 100 psi (7 bar)
All our liquid sensors are furnished with an M8 electrical connection and can be used with the Sensor Reader. We also provide all the microfluidics connectors kits necessary to start your experiment instantaneously.
Sensor designed for microfluidics 
The unique design of the small package version has been optimised to remove dead volumes and for low internal volume which makes it a perfect choice for microfluidic applications… Learn More
Flow Sensor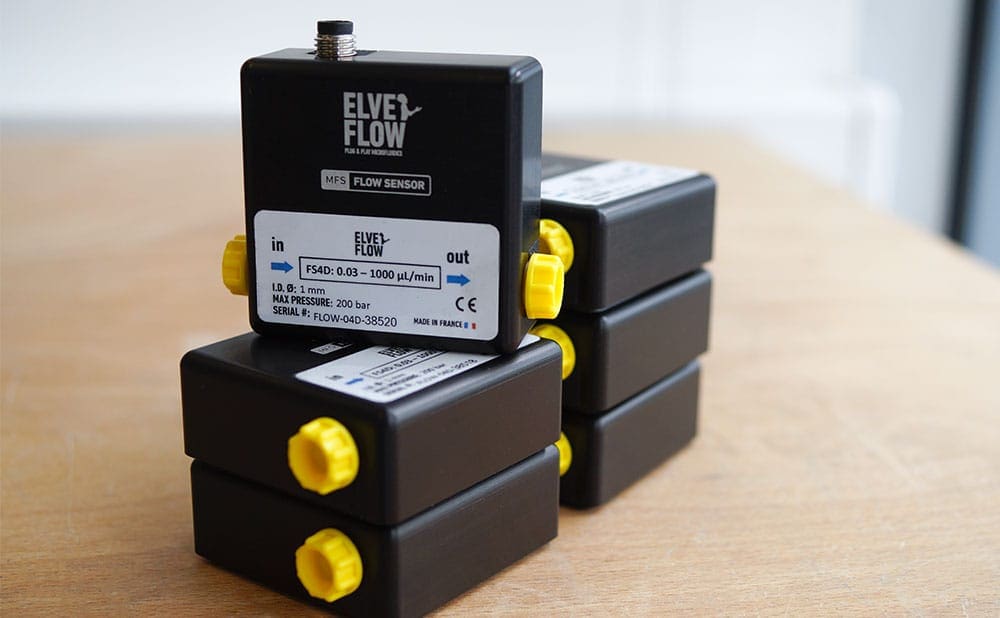 Microfluidic flow sensor (*optional)
You can plug our liquid flow sensors anywhere within your microfluidic setup, record the flow rate on your computer and adjust the flow using our pressure pumps. Our flow sensors can be plugged directly into our standalone flow reader.
Pressure Sensor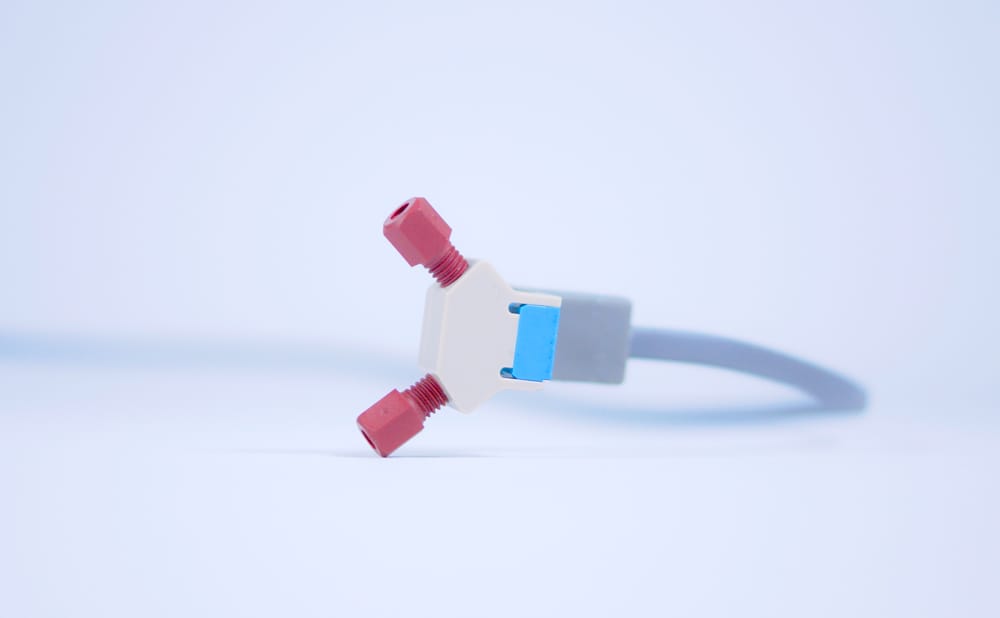 Microfluidic pressure sensor (*optional)
High accuracy flow through and dead volume as small as 7.5 µL. Our liquid pressure sensors are furnished with an M8 electrical connection and can be used with the Sensor Reader for pressure monitoring  in the Elveflow® software.
Pressure Sensor 16bar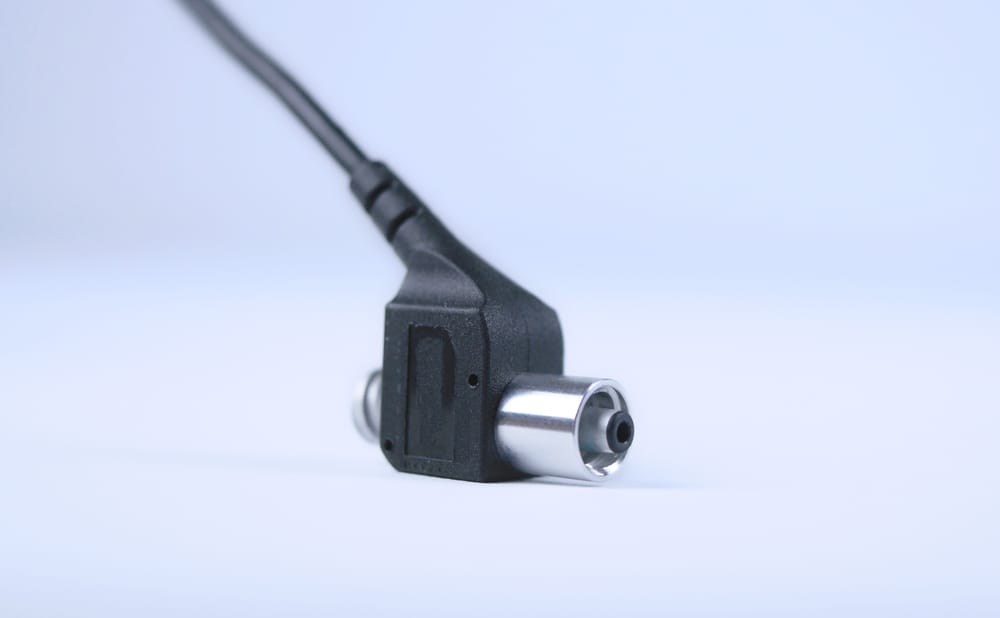 Microfluidic pressure sensor 16 bar (*optional)
Flow-through pressure sensors adapted to gas or liquids, and compatible with the Luer-lock standard. FDA-certified and therefore, suitable for food industry use. Easy to clean, excellent chemical resistance, maintenance free.
The following table summarizes the main features of the Elveflow® MSR Microfluidic Sensor Reader.
This chart indicates the resolution allowed by the MSR with our different sensors, which are different from the sensor's precision itself (see the sensors datasheet to get more informations on sensors accuracy)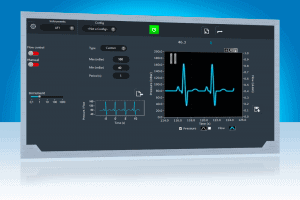 USB software module
Thanks to its intuitive interface, the Elveflow® Smart Interface enables the use of Elveflow® instruments from the simplest commands for beginners to the most complex manipulations for experts… Read more
Control your experiments through C, Python,  Matlab®, Labview® or Elveflow® Smart Interface. The Elveflow® Smart Interface is a software application offering all the functionalities that microfluidicists need.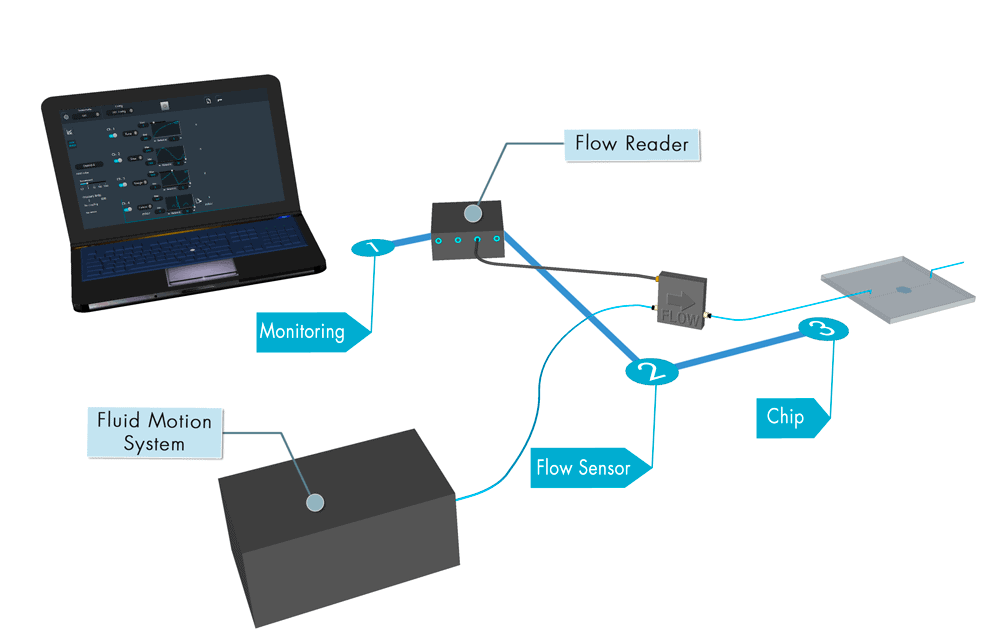 1. FLOW READER
Connect the flow reader to your computer via USB and monitor the flow rate using the Elveflow® Smart Interface.
2. FLOW SENSOR
Place the flow sensors anywhere you want on your fluidic path and electrically connect flow sensors to your flow reader.
3. CHIP / CAPILLARY
Thanks to their small footprint, flow sensors can be put anywhere within your fluidic system.