MicroSlide – Designed for cell culture

In collaboration with ALine Inc., Elveflow provides a microfluidic chip designed for cell culture (2D and 3D cell culture). The MicroSlide™ has three separate wells arranged on the microtiter spacing, supplied by a single inlet. A single outlet carries away the perfusate, while maintaining even flow in each of the wells, for continuous medium renewal.
An optically clear breathable membrane forms the bottom of the wells. The unique breathable lid attaches separately, so that attachment dependent cells can be introduced and contained in the wells before setting up the system for flow.
Get Quote or Technical Information
(We will answer within 24 hours)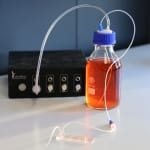 3 wells on each MicroSlide™ allowing to multiplex the assays
The MicroSlide™ is sealed with a gas permeable membrane
The MicroSlide™ can be sealed after seeding the cells
Growth media may periodically be exchanged in the wells without compromising the sterility of the system
Internal fluid membranes eliminate contamination that may be introduced with the growth media
The MicroSlide™ may be used in a standard incubator
The MicroSlide can be supplied with a plasma treated surface to promote adhesion of collagen for attachment dependent cells.
The MicroSlide can be used to culture suspension cells without sample loss or cross contamination. Thanks to the internal fluid membranes placed between the wells, suspended cells cannot move from one well to another and cause contamination.
MATERIALS
Acrylic body and acrylic optical window bonded with a non-leaching solvent acrylic adhesive
A CO2 permeable film is used to seal the wells once the sample is loaded
0.45 µm porosity nylon membrane retains non-adherent cells in their respective well, no cross-talk.
Hose barb is Polysulfone
Contained volume, 110 µL per well. Channel volume approx.
Pathlength 3.0 mm
STERILITY
The MicroSlide come non-sterilized and can be easily sterilized using 70% ethanol.
SOLVENT COMPATIBILITY
Ethanol ( up to 99.5%)
Isopropyl alcohol ( up to 91% in water)
Aqueous buffers with or without detergents
DO NOT FILL with Acetone or Aliphatic solvents such as Hexane. Wipe the optical window with lens tissue to avoid scratching.
OVERALL DIMENSIONS 1″ X 3″
Well diameter 6.5 mm arranged on 18 mm centers.
Hose barb connections use 1/16" OD soft silicone tubing.
Also available from ALine: silicone tubing, and adaptor to read MicroSlide wells in a standard Plate reader.
The MicroSlides can be used for all biological applications requiring cell culture and cell imaging with a continuous replacement of medium.
For more information about how to use the MicroSlide with continuous medium renewal, check our dedicated application note.
This system has been notably used by the NASA to study how biological systems are effected by the space environment.
KITTS, Christopher, RONZANO, Karolyn, RASAY, Richard, et al. The GeneSat-1 Biological Nanosatellite Mission. IEEE Aerospace and Electronic Systems Magazine.