Elveflow® suction pump for high accuracy flow control in microfluidic chips

.

Elveflow® high precision suction pump generates and regulates negative pressure down to -600mBar ( -8.7 psi ) with a precision of 1mBar ( 0.0145 psi ). It can be used for a wide range of applications requiring aspiration such as cell manipulation using micropipette, patch clamp or microfluidic flow control using aspiration.
Autonomous: Integrated vacuum controller and suction pump
Transportable suction pump: weight 1.2kg, small size : 15x15x20 cm.
Quick setup: 5 min for the first installation, setup a new experiment in 2 minutes.
High precision suction pump: 1 mbar tuning suction precision ( 0.0145 psi ).
USB control option: Control suction flow  in your microchip with your computer and Elveflow® proprietary software
Four independent outlets : Get four independent outlets for your suction control(optional)
Both suction  and flow rate control and monitoring: No more need to choose between negative pressure control or flow rate control
.
Elveflow® suction pump allows to setup a scientific experiment using aspiration force in minutes.
 
.
Getting the best from your suction pump
Suction pump warm up
During the first 15 minutes of utilization, the pressure of the vacuum source could change due to the components warm-up. To get optimal performance we recommend turning on the vacuum source at least 15 minutes before the beginning of your microfluidic experiment.
Small pressure shifts when opening the valve of the suction pump

When opening the valve for the first time after setting the suction pressure with the tuning button, the displayed pressure temporarily shifts by one or 2 mbar. This comes from the fact that the membrane of the internal vacuum regulator changes position with the first opening of the outlet. This phenomenon does not occur for further valve switches.
Elveflow® suction pump for high accuracy flow control in microfluidic chips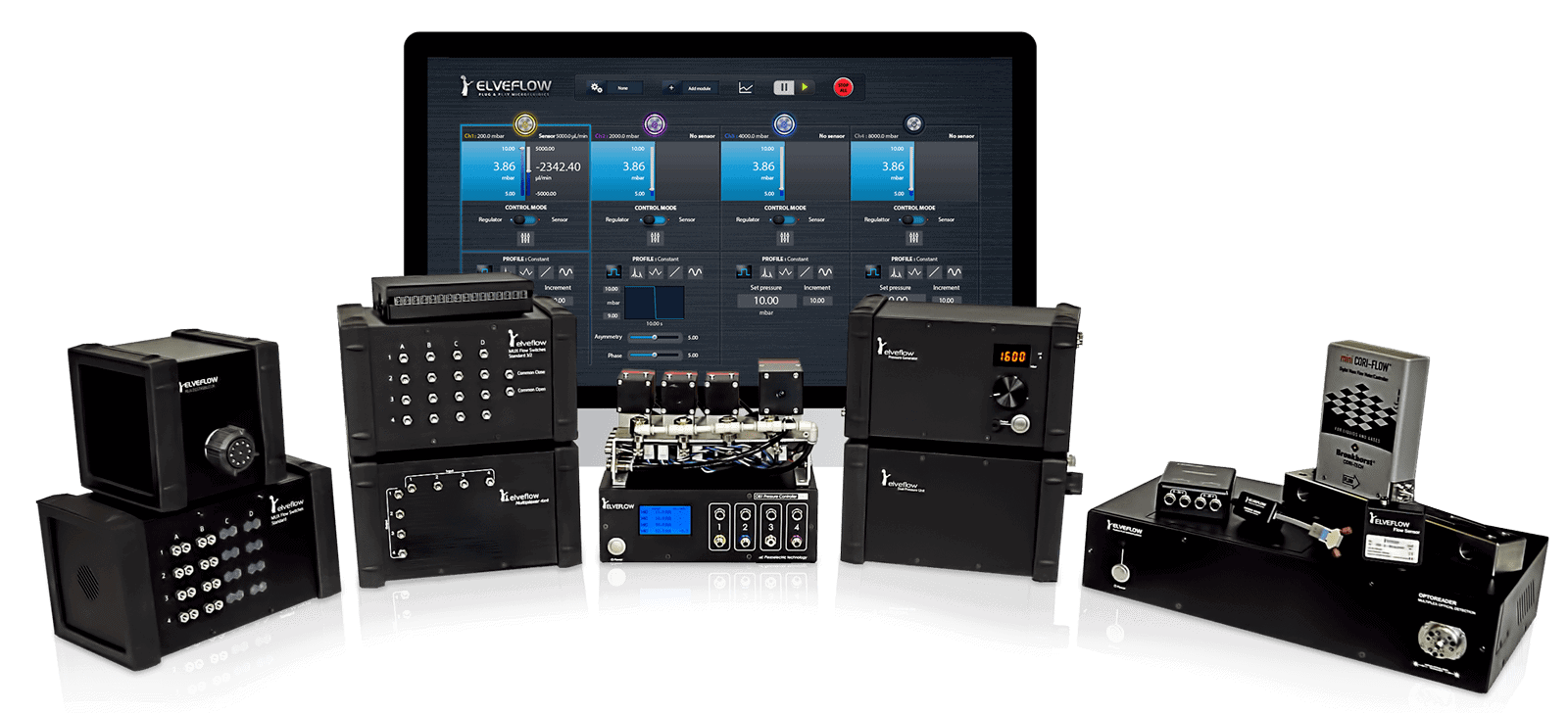 WORLD LEADER IN HIGH PERFORMANCE MICROFLUIDIC FLOW CONTROL
We  provide the only microfluidic flow control system using Piezo technology that enables a blazing fast flow change in your microdevice.