For the first time, get a high precision vacuum controller and a vacuum generator in the same equipment.

No more vacuum line in your  laboratory: A standalone vacuum controller which allows you to move your experiment everywhere.
High precision vacuum source: A vacuum controller which regulates pressure with an accuracy of 1 mbar.
Fast flow control and no pulsation: Our vacuum controller  allows flow change in your microfluidic device in less than 1 second.
USB control option: Control vacuum in your microfluidic chip with your computer using Elveflow® proprietary software (optional).
Microfluidic pump with 4 independent outlets: Get four independent outlets for your vacuum control (optional)
Both vacuum  and flow rate control and monitoring: No more need to choose between pressure control or flow rate control.
.
Flow control using vacuum controller for aspiration of fluid in microfluidic devices
For some experiment, the use of a vacuum controller to control flow in microfluidic devices has strong advantages.
- Injection of costly sample  in microfluidic devices can be performed using a vacuum controller plugged on the outlet of the microfluidic device. In this case, the sample can be deposited in an inlet hole using a pipette and handle along the microfluidic channel using the vacuum controller plugged at the outlet.
- The injection of cell on chip can be aggressive with biological organism. It is possible to inject cells in the chip by putting them in a reservoir drilled at the entrance of the microfluidic chip and aspirate them using a vacuum controller plugged on the outlet of the microfluidic device.
- Our vacuum controller has also been used to deform PDMS channel in order to squeeze cells in a controlled manner.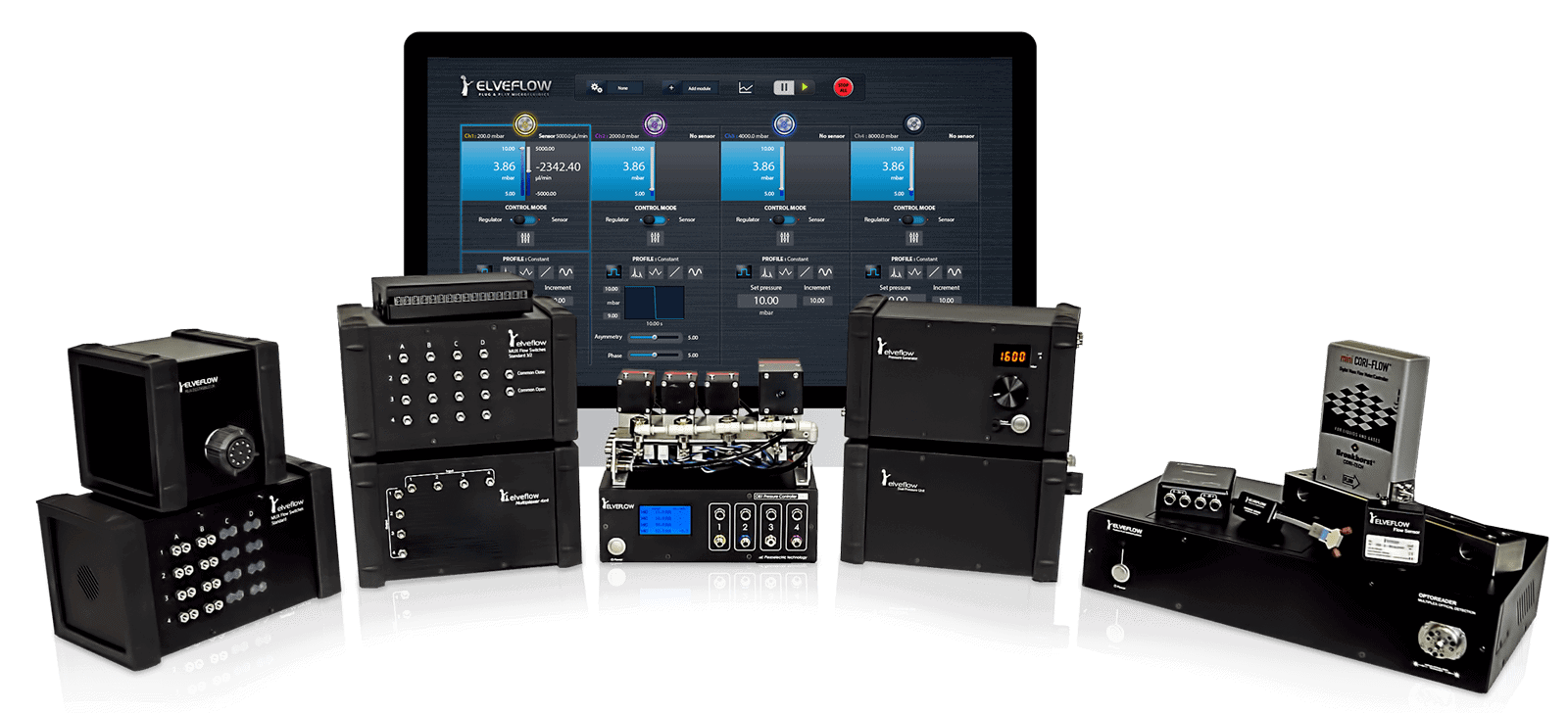 WORLD LEADER IN HIGH PERFORMANCE MICROFLUIDIC FLOW CONTROL
We  provide the only microfluidic flow control system using Piezo technology that enables a blazing fast flow change in your microdevice.