The FluoBox fluorescence reader for microfluidic qPCR
Compact, 10+ sensitive, easy to use: More precise qPCR data with no bleaching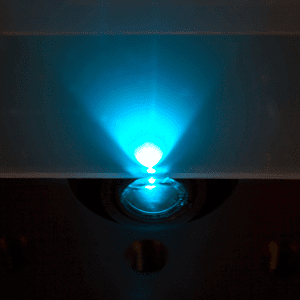 The FluoBox is a fluorescence reading system designed for microfluidic applications. Faster, more sensitive and more cost effective than most optical microscopes, it is an advantageous alternative for real time fluorescence measurements of your on-chip qPCR signal. It offers a compact and cost effective alternative compared to high NA, low magnification objective epifluorescence microscopes.
The FluoBox can be used to quantify on-chip qPCR signals in tiny chambers with an SNR that is more than 10 times higher than measurements done with most fluorescent microscopes equipped with a CCD camera. Thanks to its exceptional sensitivity, the FluoBox eliminates bleaching problems, reduces acquisition time and improves the precision of acquisition, allowing for a more exact fitting of data and Cp calculation.
Here is an example of qPCR measurements from a 100 nL microfluidic temperature controlled chamber for qPCR where the fluorescence signal (SYBR green) was measured with a FluoBox: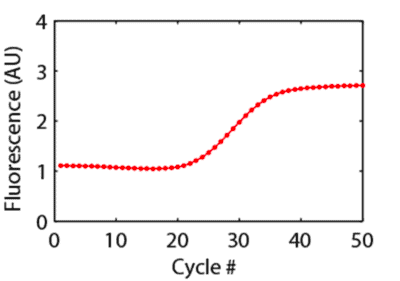 The size of the chamber is 1 mm x 1 mm x 100 µm, and each point corresponds to an acquisition done in a pulsed mode with 400 µs pulse of 0.5 mW excitation.
Principle:
The Fluobox quantifies fluorescence in 1 mm diameter spots with very high sensitivity and high time resolution, either in a continuous mode or in a pulse mode. The FluoBox is a modular brand – if you require different technical parameters for your application (spot size, wavelength, numerical aperture…) feel free to contact us.
Click here for more technical information about  the FluoBox
[learn_more caption="FluoBox's principle sketch" state="open"]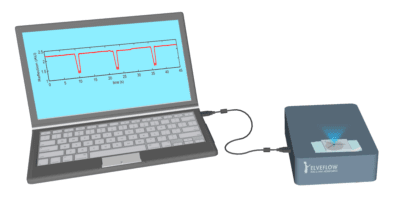 For more technical details or pricing information:
contact@elveflow.com or phone: +33(0).184.163.807
We offer accurate solutions to your microfluidic challenges such as the control of the flow rate on your cells thanks to highly performant devices. If you would like to automate your plasma treatment, you can  control the pressure of your Harricks plasma chamber with our Equinox. We also provide a microfluidic perfusion pack which will allow you to control your cells' culture medium precisely. We furnish a pressure and vacuum controller to allow you to control both the flow rate and the pressure. And of course, we also supply syringe pumps. You can consult our review on instrumentation for flow injection analysis to decide which one of our devices will be the best for your specific needs.
We produce plug-and-play microfluidics setups (microfluidic pumps, microfluidic flow control systems, pressure sources and pressure regulators, vacuum sources and vacuum controllers and other innovative products) that will fit your cell biology, your flow chemistry, your miscellaneous applications or even more. If you are currently searching for a partnership into a R&D consortium, we can support your project. If you would like to meet us, we participate in conferences all around the world. We even do microfluidics in Russia and Brazil. Click on the links below to check what you are more interested in.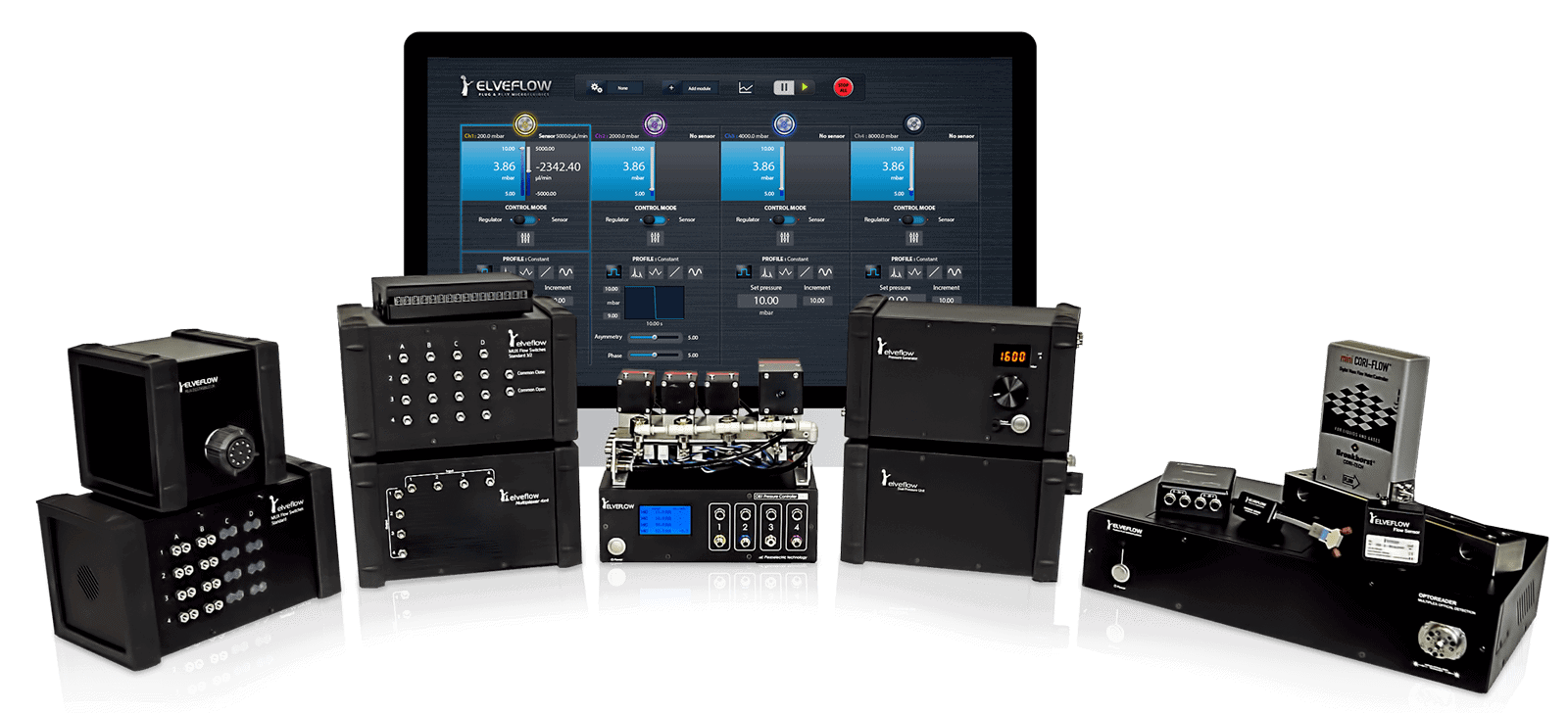 WORLD LEADER IN HIGH PERFORMANCE MICROFLUIDIC FLOW CONTROL
We  provide the only microfluidic flow control system using Piezo technology that enables a blazing fast flow change in your microdevice.