HARVARD APPARATUS PHD ULTRA ADVANCED SYRINGE PUMP : A REVIEW
Introduction about Harvard Apparatus PHD ULTRA advanced syringe pump 
Since 1956, Harvard Apparatus offers a broad range of syringe and peristaltic pumps to suit almost every fluidic application. Harvard Apparatus Phd ultra advanced syringe pump is designed for micro and nanofluidic applications.
Need advice to choose your microfluidic flow control?













Feel free to contact us at:
contact@elveflow.com
Ask me your question
(We will answer within 24 hours)
Flow oscillation, minimal flow and reproducibility
Let us come back to flow oscillation, the pump specifications for the Harvard Apparatus PHD ULTRA™ advanced syringe pump are quite impressive. The pump can reach a minimum flow rate of 1.5 pl/min when using a 0.5 ul syringe. The accuracy of the PHD ULTRA™ is 0.25% with a reproducibility of +/- 0.05%.
( Note that manufacturers may use different methods to determine accuracy and reproducibility in their specifications. The Elveflow microfluidic team cannot guarantee which manufacturer is the best suited for each microfluidic situation. )
To achieve the performance required for microfluidic applications, the Harvard Apparatus PHD ULTRA™ uses a microprocessor controlled small step angle stepper motor which drives a lead screw and pusher block. Advanced microstepping techniques are employed to further reduce the step angle to eliminate flow pulsation. This syringe pump produces up to 12,800 µsteps per one revolution of the pump lead screw and has a minimum pusher block travel rate of µm/min. Harvard also uses a patent pending mechanical drive and syringe holding mechanism to further improve the performance of the PHD ULTRA™.
Response time and settling time
The Harvard Apparatus PHD ULTRA™ does not include a flow rate feedback loop to integrate into your microfluidic device. For additional information about how to reduce flow oscillation and increase responsiveness of your Harvard Apparatus PHD ULTRA™ syringe pump please review our tutorial about the use of syringe pump in microfluidic.
Additional information about Harvard PHD ULTRA advanced syringe pump
Front panel control
The 4.3 inch (10.92 cm) WQVGA TFT color display with touch screen coupled with the intuitive EZ PRO user interface allows programming simple to complex experiments. The touch screen interface also includes preprogrammed methods for various fluidics applications. All programming is done on the pump interface, all without the use of a PC.
Trigger capability
The pump includes trigger capability for synchronization with other instruments such as microscope or camera. This feature is very useful as more microfluidic experiments require synchronization between several instruments.
.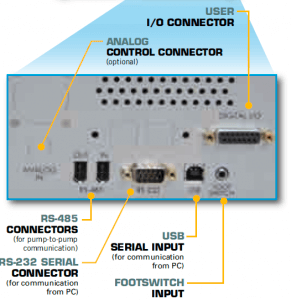 Back panel connections
The PHD ULTRA™ includes several external interfaces for advanced connectivity. All PHD ULTRA™ syringe pumps come standard with a footswitch, USB, RS-232, RS-485 and I/O connectors. Optional RJ-11 and 0-10V analog control interfaces are also available.
The Harvard Apparatus PHD ULTRA advanced syringe pump can be use either horizontally or vertically to optimize bench space or to minimize tubing.
.If you want more information about the Harvard Apparatus syringe pump, you can contact Simon Cox from Harvard Apparatus or contact us.
This tutorial had been wrote with the help of Harvard apparatus R&D team
Discover other microfluidic syringe pump of our review : Cellix ExiGo syringe pump, New Era 1002X syringe pump, Harvard Apparatus 11 pico plus Elite syringe pump, KD Scientific Legato 180 Picoliter Syringe Pump.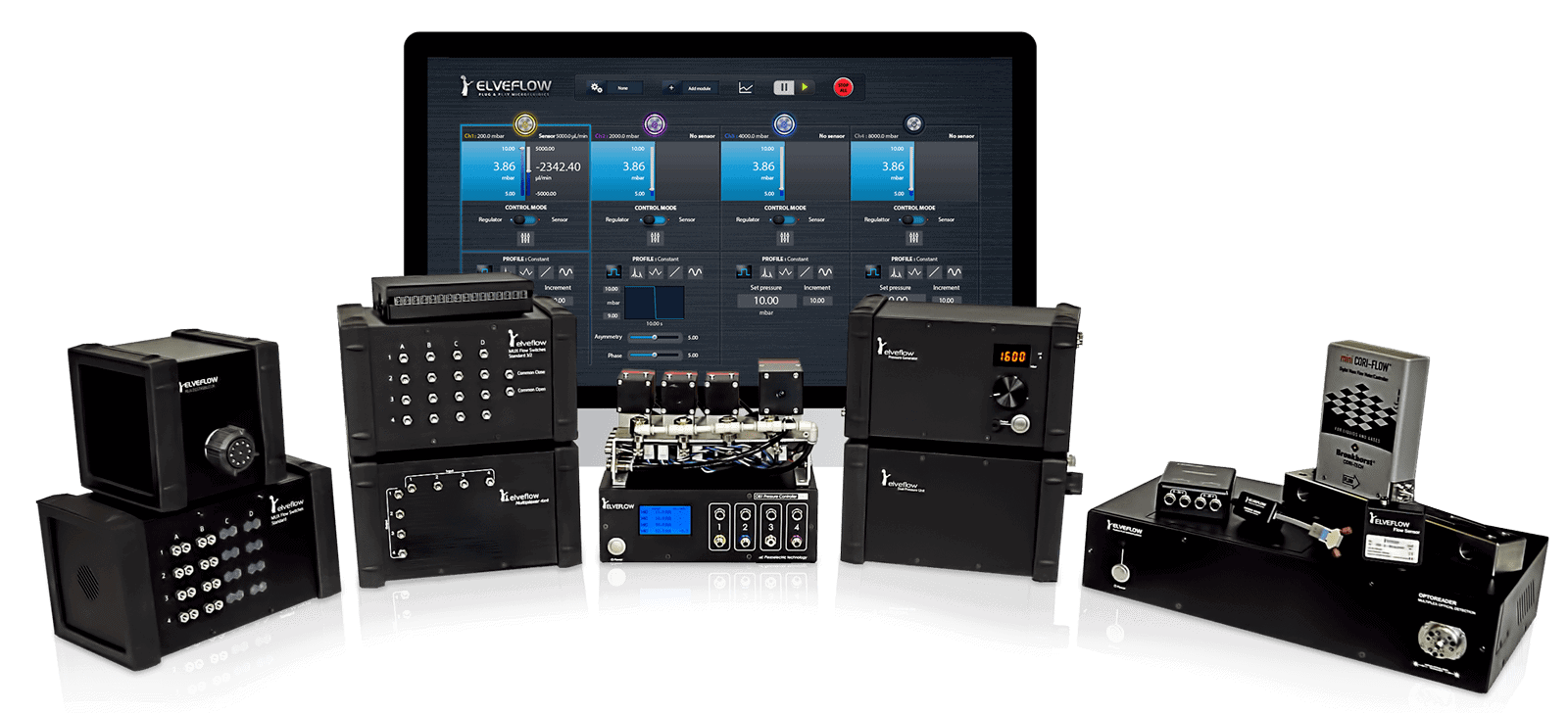 WORLD LEADER IN HIGH PERFORMANCE MICROFLUIDIC FLOW CONTROL
We  provide the only microfluidic flow control system using Piezo technology that enables a blazing fast flow change in your microdevice.