Which Connector should you use between your Chip and your Tubing ?
It is no secret that in mirofluidics as in other fields, sometimes the smallest things can make the biggest difference. We all have better things to do than waste our precious time to deal with leakage, dead volume and bubbles problems. Having microfluidic connections that are reliable and easy to operate is a first step towards success. Because this saves your precious time and allows you to focus on your science and things that really matter.
Various microfluidic connection types are used depending on the device used, or chip type.
The following table summarizes the connection and fittings types commonly used in microfluidic setups:
Which Connector & Tubing suits you best ?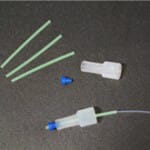 Microfluidc connectors can be used with various tubing sizes and types, using the corresponding connector.
Choosing the right connector for a particular application, can easily turn into a waste of time, but once again, we've done the job so that you can focus on your science and reach next step faster!
The following table is a quick guide showing which connectors are provided with Elveflow instruments and Elveflow Accessory kits, providing an immediate read on what connectors and tubing are required to secure the fluidic path between your instrument and your chip.
Elveflow Microfluidics eShop
Do you want to learn more about our products? Browse our catalog of Microfluidics Kits & Accessories and find the solution that suits your specific needs!