How to perform fluid recirculation?
The MUX inj is a bidirectional 6-port / 2 position valve allowing to perform switches between two set-up configurations. One application is to make a recirculating set-up with a flow rate always going through the chip in the same direction. In this application note, we walk you through the steps of setting up a unidirectional recirculation through a semi permeable membrane.
Get Quote or Technical Information
(We will answer within 24 hours)
Mux Inj working principle
The injection loop consists of a network of inputs/outputs that can be connected to each other in two configurations. Its very low internal volume (Stator- 0.2 μL/hole, Rotor Seal- 1.3 μL/groove) makes it the ideal valve to perform the injection of a controlled volume of sample in a chip.
The Mux Inj has 6 inputs and two configurations shown on the image below. Each input is connected to a neighbour output, either on the right or the left depending of the configuration.
Applications
Cell culture on chip
Live cell imaging
Cell response to medium change
Drug screening
Toxicity tests
Stem cells assays
Set-up
Material
Organ on a chip (Aline Inc.)
Elveflow® pressure & flow control instrument (OB1 MK3)
Sample reservoirs (a Small Reservoir, Medium Reservoir or a Large Microfluidic Reservoir), one for each medium sample
Microfluidic device (here an Organ on a chip microfluidic chip from Aline Inc…)
We are using here an organ on a chip to show case the reci
rculating setup.
This chip, from Aline Inc, is a two input two outputchips. It consists of two channels, one upper channel and one above channel, separated by a semi permeable membrane. The idea of the experiment is to have a continuous and constant flow of for instance cell nutriment in the upper channel. This nutriment is recirculating during a given period of time. In the below channel, there is a continuous flow of for instance cells, which is not a recirculating flow.
This experiment showcases how the nutriment diffuses through the membrane and which amount of the initial quantity of nutriment has been consumed by the cells. We are here using a blue dye to mimic the nutriment.
Set-up diagram
Warning : Make sure that the tubes are correctly inserted into the Mux inj to prevent any leakage. The tube should reach the bottom of the connector in order to perform a waterproof connection. After inserting the tubes, tight the spanner to ensure the sealing.
Step-by- step control with the Elveflow® smart interface
Conclusion
The Elveflow® smart interface allows to synchronize the OB1 MKIII pressure controller together with the Mux Inj in order to perform a recirculating set-up. This software is thought to run long term experiment thanks to the powerful sequencer which can perform the switch between reservoirs automatically either after a predetermined period of time or, in combination with a flow sensor, after a chosen amount of sample as gone through the chips.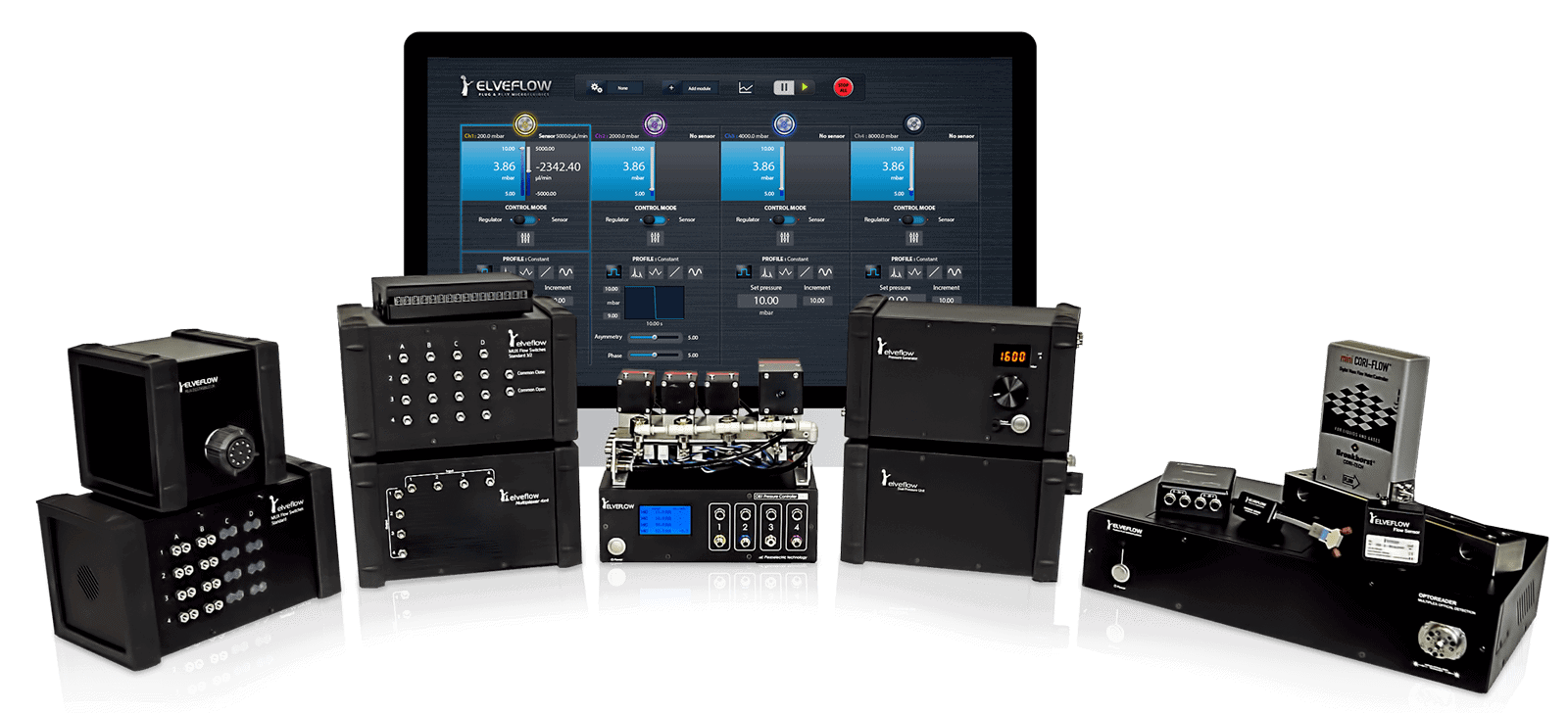 WORLD LEADER IN HIGH PERFORMANCE MICROFLUIDIC FLOW CONTROL
We  provide the only microfluidic flow control system using Piezo technology that enables a blazing fast flow change in your microdevice.