Fluorescent droplets tracking by using the OptoReader

Principle
The Opto Reader allows the detection and quantification of flowing particles at a given point during microfluidic experiments.
The optical fiber both illuminates and captures light emitted by a fluorescent object. The optical fiber output can be focalized into a  tiny spot thanks to a compact objective specifically designed for microfluidic chips.
Setup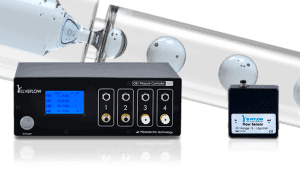 Microfluidic droplet generation Pack:
Performances
Technical features allow fine monitoring of your experiment.
High throughput detection: 100 kHz Acquisition.
High sensitivy: Fluorescence detection limit: < 20 pW full bandwidth.
High contrast: Detects variations of reflected of light up to 0.1%.
Protocol
Hardware
Create the fluorescent object of interest.
Choose the optical wavelength and polarizers that fit best the fluorescent dye.
Choose the lens best suited to your needs.
Use the positioning platform to produce a sharp focalization at the given point of interest.
Tune the monitoring parameters through our software.
In this application note we dissolved fluoresence into water and created water in oil droplets thanks to a T-junction microfluidic chip. Fluorescein has an absorption maximum at 494 nm and emission maximum at 521 nm (in water). We used an excitation wavelength at 470nm. 
Software
Work either with Fluorescence or Reflection only or both Fluorescence and Relection.
Tune the Fluorescence and Reflection limits of the events you want to detect.
Detect either Rising or Falling edge.
Select the gain and cutoff frequency that enhance your measures.
Launch the acquisition.
Basic software functions allow to count fluorescent & reflection events and measure the width, amplitude and frequency of these events.
Knowing the flow rate at which your particles are flowing and the dimensions of your microfluidic channel your are able to deduce the size of your particles.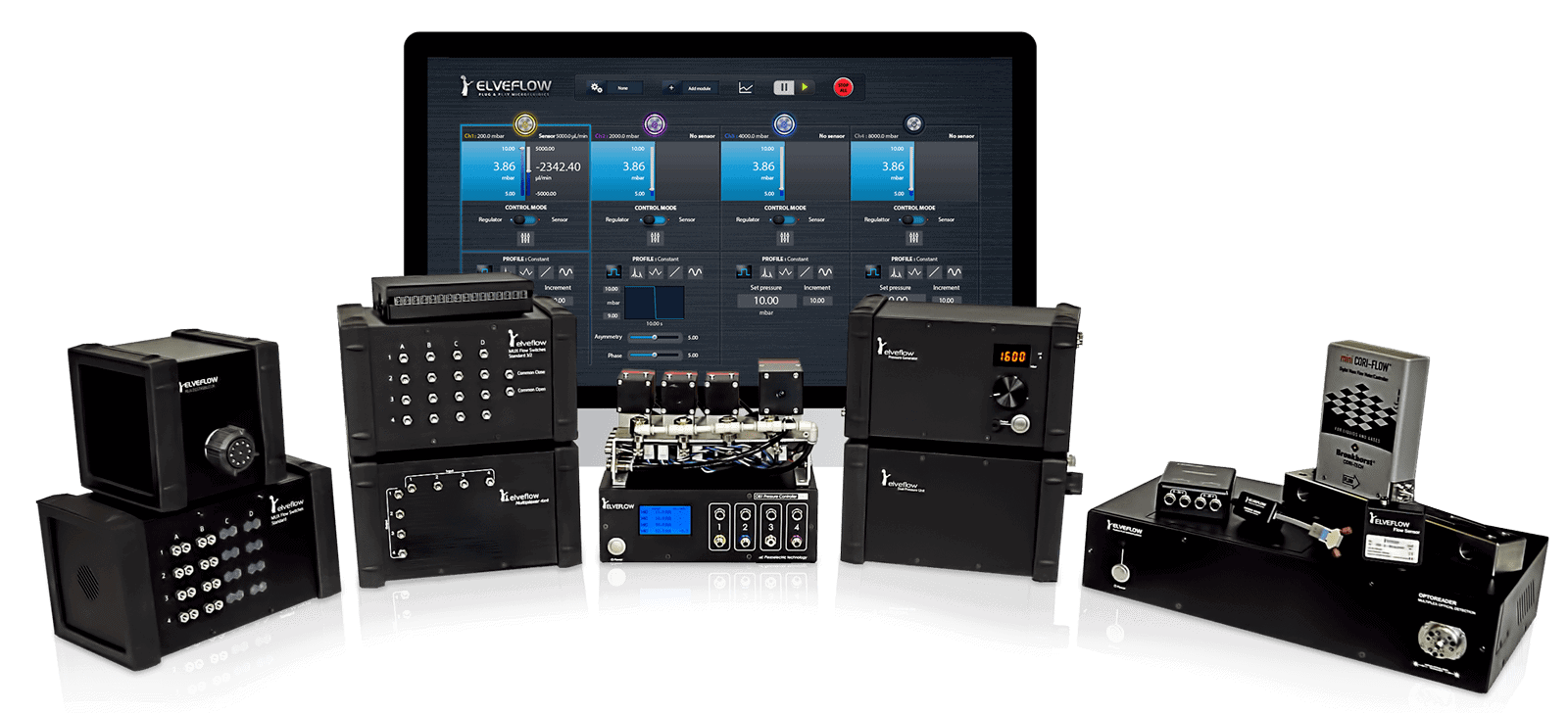 WORLD LEADER IN HIGH PERFORMANCE MICROFLUIDIC FLOW CONTROL
We  provide the only microfluidic flow control system using Piezo technology that enables a blazing fast flow change in your microdevice.