Flow Chemistry - Microfluidics and sample preparation
Get Quote or Technical Information
(We will answer within 24 hours)
The advent of microfluidics as a tool for chemical synthesis is coming of age, particularly in industrial techniques. It has many advantages over conventional techniques such as as small reagent consumption, improved selectivity, less strigent reaction clean up, rapid reactions and small footprints.
Polymer synthesis
Organic synthesis
In-chip reagant mixing
Manufacturing complex
Green chemistry
Drug discovery
Sample preparation
Drug screening
Flow Chemistry Set-up
A fluidic system dedicated to Flow chemistry
Elveflow® provides a unique system dedicated to Flow chemistry and sample preparation. This fully integrated solution includes all the necessary elements to create a continuous flow and monitor flow rate.
Mix between 18 different reagents
For experiments requiering mixing different components in different amounts.
Using two 11 ports / 10 positions valves it is possible to mix up to 18 different reagents (one vial for each selector valve being needed for the washing sequence). The use of the Microfluidic Coriolis Flow sensor ensures a fine control for mass injection and to finely tune the ratio of the different liquid injected. Then, the use of a 3/2 valve at the outlet of the chip allow to direct the output of the mixing chip either to a waste for the washing step of the the collection vial for the coumpound of interest.
Reactor – Mixing chip
With regards to Microfluidic Mixers you can take a look to the following review or contact our team for advices.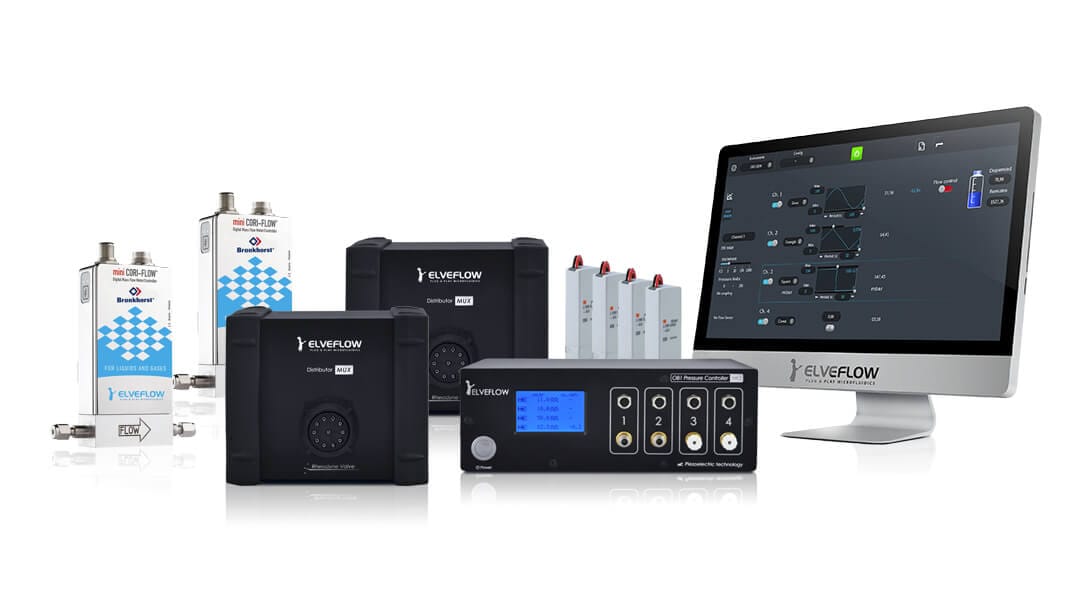 Get Quote or Technical Information
(We will answer within 24 hours)
The above video showcases the stability of the controller. We are injecting three different liquids inside a channel and perfectly tuning the ratio of different the different liquids.
It is particularly usefull for the applications mentionned earlier.
Micromixer - Chip used to mix fluids
Bronkhorst Flow Controller 1
Bronkhorst Flow Controller 2
OB1 Pressure Controller 2 Channels
Benefits
Small vials for expensive samples
Large vials for long term experiment
Disposable parts
Washing steps (no cross contamination)
Modular, Upgradable and scalable
0.2% accuracy for flow injection
Automate injection
Small footprint
High chemical compatibility (PEEK, Stainless steel)
Conclusion
Microfluidics has a lot of advantages over conventional techniques for flow chemistry and sample prepation. It paves the way to new applications and better control.
Related Products & services