MRH – Microfluidic reservoir holder
This Microfluidic reservoir holder is the perfect partner use up to 4 independent XS Eppendorf tubes (1.5 mL) for convenient use with a your OB1 MK3+ controller.
Get Quote or Technical Information
(We will answer within 24 hours)
The Rack Holder 4-XS keeps all your samples in one place and enables up to 4 tubes to each be connected to their pressure source in a compact efficient manner.
This simplifies your experimental setup, allows you to quickly and easily check which OB1 channel is connected to which tube, and provides an easy visual check of how much sample is left in each tube.
It has been designed following users feedback to enhance user experience: easy to screw and unscrew to load your samples.
Fluid connectors: 1/4-28″ coned UNF female fittings
Reservoirs (disposable):  1.5mL Eppendorf
Wetted material: Only disposable materials are wetted
OB1 MK3 SETUP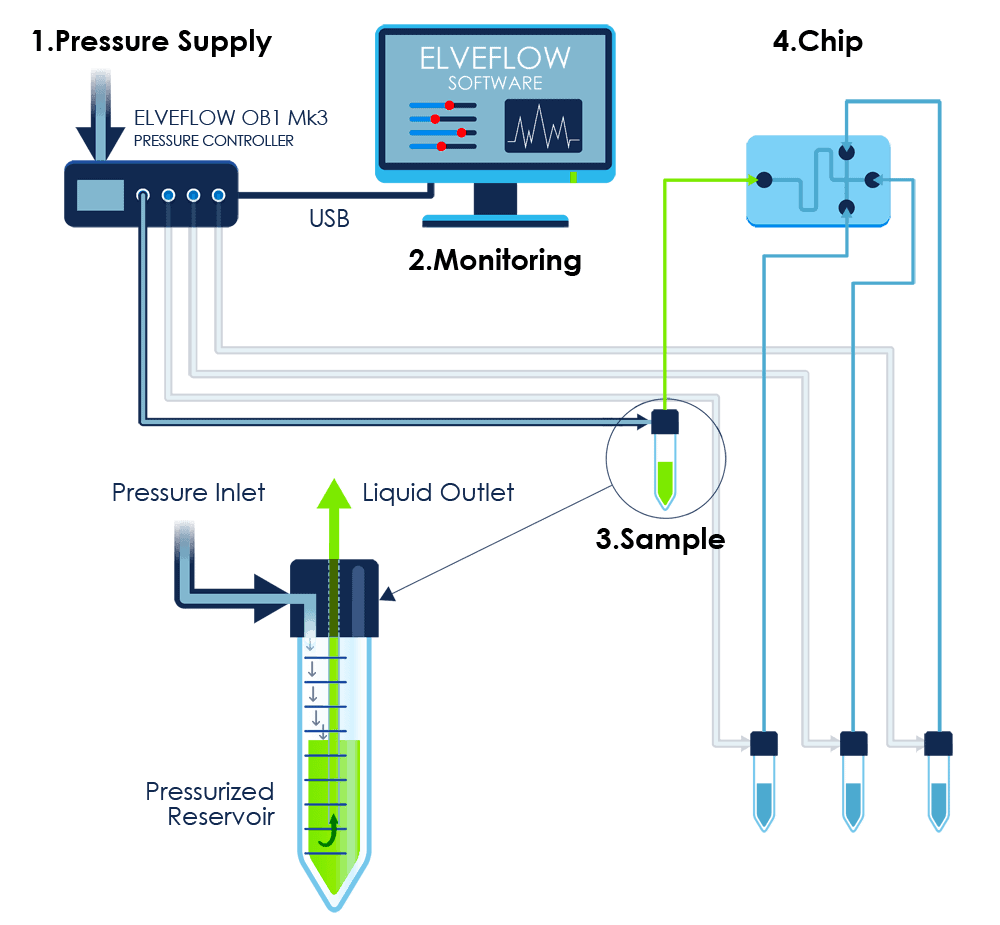 PRESSURE SUPPLY: Connect a dry, dust and oil free pressure source to your instrument.
MONITORING: Control the pressure and flow rate using the Elveflow Smart Interface on your computer. This software enables you to create and run sequences with a specific pressure or flow rate profile
SAMPLE: Pressurize liquids inside tanks with your OB1 Mk3. (compatible with Eppendorf, Falcon or bottle )
CHIP: Pressurized liquids are smoothly and precisely injected onto your chip according to the set pressure or flow rate profile.