With Elveflow, install your setup in a few minutes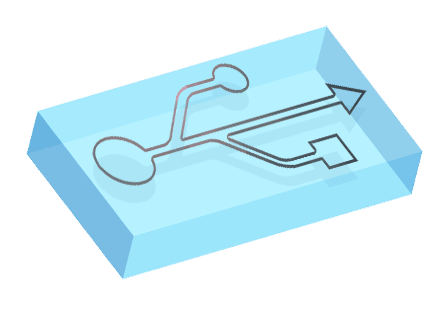 1 Flow control instruments: Plug and Play flow control instruments – connect your electrical plug and start your microfluidic experiment.
2 Elveflow® software: Plug & Play software designed to control and synchronize all your instruments.
3 Microfluidic tubing kit: Use our microfluidic tubing kit and eliminate all your plumbing issues.
4 Research team: The Elveflow research team can design and produce your chip, install your experiment and train your team in microfluidics.
Whatever your setup, scientific instrumentation should remain Plug and Play. The Elveflow® team will gladly counsel you on the right solutions for your microfluidic flow control and plumbing issues so that you can focus on your research. Elveflow® is a company created by a team of former researchers in microfluidics. We focus on the development of high performance, Plug and Play flow control systems fitted to the needs of microfluidic researchers. Depending on your specific needs, no matter whether you are a beginner or an expert, we can advise you on products and the installation of your setup in order to ensure that your experiment is fully functional from the start.
.
Discover our brand of microfluidic flow control instruments
Is your lab just beginning in microfluidics?
Elveflow® can support you as you turn your ideas into new microfluidic experiments. As we always say, it is better to begin with a running microfluidic experiment from the very first day. Depending on your needs, our microfluidic R&D team can:
Give you advice on microfluidic flow control issues, device fabrication and design
Design and fabricate your microfluidic chip for your application
Help you to choose the best setup for your application
Install your setup in your lab and even configure your experiment with you
Train your team in microfluidic sciences
Answer all your eventual questions about microfluidics
And of course, you will enjoy all the performance and ease of using Elveflow® microfluidic systems. Thanks to the "basic mode" of the Elveflow® software suite, it takes just a few minutes for you to familiarize yourself with the program and easily and effectively control all your instruments. Later, for more advanced flow control options you can switch to the expert mode of the Elveflow® software.
For laboratories that want to produce their own microfluidic devices, Elveflow® also offers the installation of a small PDMS soft lithography facility  in your lab.
Is your lab already experienced in microfluidics?
Do you need to install a complex microfluidic flow control setup? All the Plug & Play Elveflow® microfluidic flow control instruments are customizable. We offer numerous options to help you fit the right Elveflow® instruments exactly to your needs. If you have a special request, we can develop a fully customized instrument for your lab.
Do you have questions on how to use our instruments? Our team of knowledgeable microfluidic specialists will gladly advise you on the best equipment set for your application.
Do you want to setup a microfluidic experiment? Feel free to contact us:
contact@elveflow.com or phone: +33(0).184.163.807

They trust us