Need a droplet-based microfluidics partner for your research consortium ?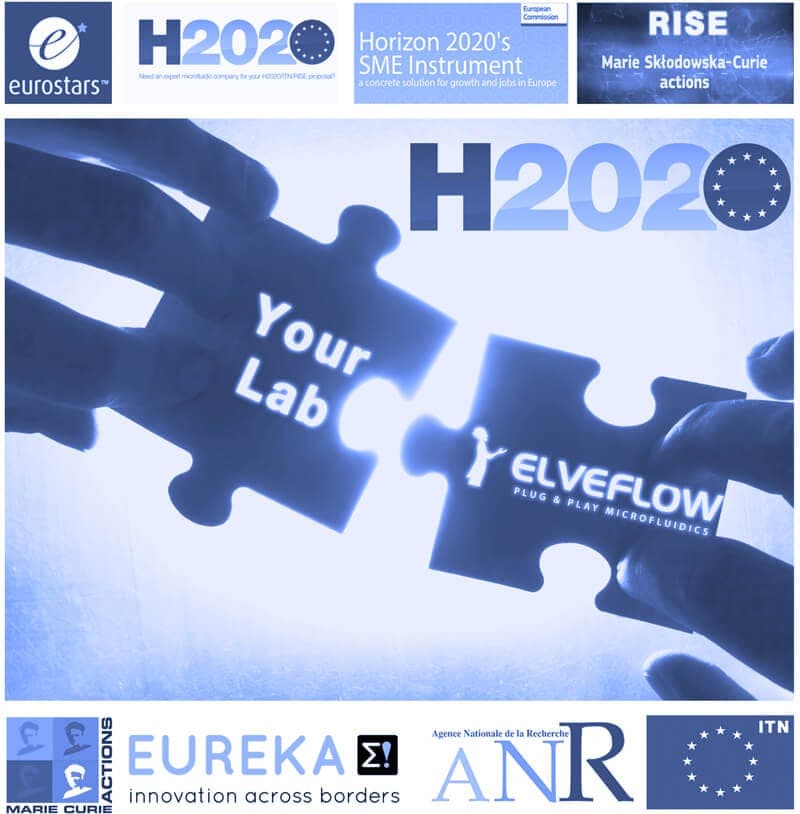 "Work with the world leader of microfluidics flow control for droplet-based systems, we will help you to achieve quickly your milestones."
ALL MICROFLUIDICS RELATED SKILLS IN ONE COMPANY
Elvesys is one of the few companies in the world that integrates all the knowledge, practices and network necessary to ensure the success of a droplet-based microfluidics R&D partnership. Our core interest is to participate in research consortia linked to droplet-based microfluidics in order to secure the development of research projects in the field of digital microfluidics.
When researches are oriented towards market applications and valorizations it is very important that expected competitive advantages and industrialization problematics are taken into account at the early beginning of the R&D process. For this reason Elvesys built this entire research proposal keeping in mind the valorization objectives.
Fine tuning of droplet size based on a partner's work: Say Hwa Tan group on Droplets and Bubble Microfluidics.
"To maintain meaningful

 and productive long-term partnerships, we follow one rule: we always fulfill our R&D objectives."
What can we bring to your R&D consortium ?
Engineering and microfluidics researches: we can fasten your research project by developing special featured microfluidic chips and instruments. For laboratories not familiar with microfluidics, we can also take care of the microfluidics research work package required for your scientific project.
Research promotion: Funding institutions also have to justify how they use their funding and investment returns. Our goals fit entirely with the value-creation objectives of national and European funding programs. Our objective is to facilitate the transfer of the specialized knowledge created in research laboratories towards society.
Why European Union emphasizes public/private research consortia ?
The number of grants and funding dedicated to multidisciplinary projects has dramatically increased in the past few years. The classifications of former EU FP7 fundings, H2020 and ANR national grants show that science is no longer shaped by traditional disciplines but rather by thematic axes dealing with societal and industrial issues. In this context, cooperation is often required in project calls for grant funding. Multidisciplinary research must take advantage of specialized actors such as innovative companies as ELVESYS whose knowledge of both science and industry can bridge the gap between scientific innovations and their global applications.
 They trust us

Discover Elvesys microfluidic research projects
E-STEAM: A vape-healthy electronic cigarette
BlackHoleLab: Cheap as chips soft lithography station for any research laboratory
MEDLEM: Microfluidics fighting against Leukemia
FASTGENE VERSUS PATHOGENS: An epidemics tracking system
LAPASO'S EYE ON MALARIA: Quick and low-cost lab on a chip for malaria detection
Pillarcell: Microfluidic system for stem cell differentiation
Diflusel: Nanofluidic electro-concentration designed to replace ELISA assay
 The PHOTOTRAIN : Microfluidic for a sustainable future
THE DNAREPAIRMAN : Molecular machines for DNA repair