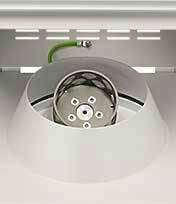 An automatic mixer for your PDMS
This automatic mixer is designed for rapid degassing and mixing of polymers such as PDMS. This planetary mixer enables reproducible and uniform mixing of PDMS without contamination and allows a "PDMS/reticulating agent" ratio of up to 1:40.
The Elveflow team selected this mixing equipment for its robustness, quality and superior mixing capabilities compared with other planetary mixers.
How it works
This mixer works by spinning a high-speed mixing arm in one direction while the basket rotates in the opposite direction. It is this combination of forces along different planes which enables efficient mixing.
Performance
What materials can it mix?
The mixer can be used for 1 and 2 part silicons, polyurethanes, polysulfides, acrylics and a wide range of other materials such as PDMS. Since the mixer has no mixing components to clean (it works with disposable cups), all risk of contamination is avoided when working with colour master batches, pharmaceutical products and other sensitive materials. Both re-usable and less expensive disposable cups (recommended especially when cross-contamination is a major issue) are available.
How much can it mix?
The maximum batch weight that can be mixed is 100 grams, (150g total, including the mixing cup, lid, and holder). Cups are used with holders that have weights designed to maintain the balance of the machine. Various cup sizes are available (10, 20, 40, 60 and 100 grams) to fit your needs and minimize material waste by tailoring the actual batch size to the quantity you need rather than what the mixer requires.
Majors strengths
Easy to use.
Adjustable rotation speed.
Time programmation.
Technical data:
Speed: 300-3500 rpm
Mixing time: 5 seconds to 2 minutes
Mixing capacity: 5 grams to 100 grams
Facilities:
Variable speed control
Two programmable speed settings
Monochrome display
Display panel
Imbalance sensor
Dimensions:
Width: 280 mm, Depth: 315 mm, Height: 423 mm, Weight: 28 kg
If you need help!
Contact us or our partner BlackHole Lab
contact@blackholelab.com
+33 7 82 83 12 07