MFR - MICROFLUIDIC FLUORESCENCE READER
Fluorescence detection for microfluidic device : The FluoReader is a LED Induced Fluorescence (LEDIF) measuring system designed for microfluidic applications. Faster, more sensitive and less expensive than most optical microscopes, it is a smart alternative for real time optical measurement of medium-scale objects (mm scale).
It offers a cost effective alternative compared with high Numerical Aperture, low magnification objective epifluorescence microscopes.
PRINCIPLE
The FluoReader quantifies fluorescence in an area of 2 mm diameter with very high sensitivity and high time resolution. The geometry of the detection area can be tuned thanks to various reticles selectable through a rotating wheel.
This allows to detect fluorescent objects in a circle, a square, a series of stripes or any other geometry of the wanted size.
The fluorescent measurement can be performed either in a continuous mode or in a pulse mode to avoid sample degradation.
PERFORMANCE
High NA and large surface detection: for the best sensitivity in very low fluorescence concentrations.
High throughput detection: 100 kHz acquisition allows the detection of fast events.
Custom geometry of the detection area: 6 reticules selectable with features from 200 µm to 2 mm to fit most requirements.
Continuous acquisition or pulse mode for point measurement: pulse from 50 µs to 10 s.
High sensitivity: Fluorescence detection limit: < 20 pW full bandwidth.
Compact size: A fluorescence detection system that fits in a shoe box.
Easy interactivity: FluoReader can interact with other Elveflow products through the Elveflow software suite.
APPLICATION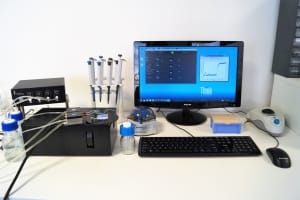 Chemical reaction tracking
Chemical flow throw ultra-sensitive fluorescence detection
On-chip qPCR 

(see the following example)

Cell culture fluorescence measurement for confluency or protein expression tracking
etc.
SPECIFICATIONS:
Available excitation/reflection wavelengths (1): 470 nm (blue), 530 nm (green), 590 nm (amber), 625 nm (red)
Available Filter set (1): FITC, TRITC, Texas Red, Cy5
Excitation power2: 0-5 mW
Max acquisition frequency: 100 kHz
Sensitivity: < 20 pW full bandwidth
Measurement dynamic: 84 dB
Detection spot : selectable among 6 reticles (1 mm diameter)
Numerical aperture: 0.41
These specifications are not contractual and can be changed without notice
(1) Other wavelengths available on request
(2 ) Effective excitation for 490 nm excitation wavelengths.
(3) Other diameters available on request
USB flow sensor software module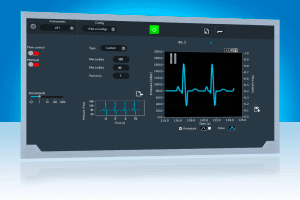 Thanks to an intuitive interface, the Elveflow® Smart Interface enables the use of Elveflow® instruments from the simplest commands for beginners to the most complex manipulations for experts… read more
Control your experiments through C, Python,  Matlab®, Labview® or the Elveflow® Smart Interface. The Elveflow® Smart Interface is a software application offering all the functionalities that microfluidicists need.
MANY OTHER OPTIONS ARE AVAILABLE ON REQUEST:
Focalization optics: spot detection in diameters of 0.5 mm to 5 mm available.
Multi-band fluorescence detection (up to 3 colors): measures several fluorescent dyes.
Lock-in detection: for very ultra-low fluorescence detection.
Customer inspired: contact us for original propositions inspired by your needs!
T. Houssin, J. Cramer, R. Grojsman, L. Bellahsene, G. Colas, H. Moulet, W. Minella, C. Pannetier, M. Leberre, A. Plecis and Yong Chen. Ultrafast, sensitive and large-volume on-chip real-time PCR for the molecular diagnosis of bacterial and viral infections. Lab on a Chip, Feb 2016, DOI: 10.1039/c5lc01459j
Example study FLUORESCENCE READER FOR MICROFLUIDIC QPCR

Here is an example of qPCR measurements from a 100 nL microfluidic temperature controlled chamber for qPCR where the fluorescence signal (SYBR green) was measured with a FluoReader. Compact, 10x sensitive, easy to use: more precise qPCR data with no bleaching.
Review OPTICAL DETECTION TECHNIQUES FOR MICROFLUIDICS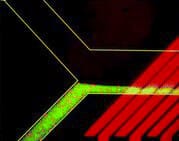 Have a read on optical detection systems for microfluidics and discover what other types of detection techniques can be applied!