ARCHIVES : High precision microfluidic flow control system
There are different ways to generate flow in a microfluidic chip. Some researchers prefer to use syringe pumps to dispense an accurate amount of liquid in their microfluidic systems, others use a suction or vacuum pump to carry liquids, some use peristaltic pumps in order to have a "constant" flow in their device, and other prefer the use of a pressure source (a single device can have the two functions) to have a very short response time without flow oscillation on their microfluidic systems.
All these solutions have advantages and drawbacks, in term of precision, accuracy,  physical quantities that could be controlled (flow rate or pressure in the device), probability of air bubble formation and so on…
Some devices can generate an instantaneous and pulseless flow, without any oscillation, lowering the probability of artifacts in the signal recorded in the microfluidic experiment, along with a high precision pressure control. The good choice always depends on the particular microfluidic application and its specific requirements.
You can learn to accurately control your cell's culture medium by knowing the real flow rate, controlling the shear stress on your cells and switching between your components with our Microfluidic Perfusion Pack which will allow you to avoid applying the wrong flow rate on your cells.
Elveflow® can help you choose your flow control system for your applications (syringe pump, pressure controller, USB fluidic valve, tubing).
For example, we compare syringe pumps and pressure generators for flow generation in microfluidic experiments. We also wrote a short review on instrumentation for flow injection analysis.
To get advice about flow control in your microfluidic system, please  contact us.
Microfluidics can be easy. We offer plug-and-play microfluidics setups that will fit your applications like our Harricks plasma cleaner named Equinox, our FluoBox, our USB microfluidic flow switch or other equipments which will allow you to easily control your flow by stopping it, for instance or to generate and control the pressure you want to apply in your microfluidic chip. We suggest you to have a look at the videos to view some demonstrations about our flow control system.
If you would like to start a partnership with us for your research consortium, look up here. You will find us in some upcoming conferences. We also do microfluidics in foreign countries such as Russia or Brazil.
And if you have any question you can visit our FAQ page. We hope that you will find there the answers you need.
Microfluidics jobs
To learn more about the job opportunities currently available in our company, click here.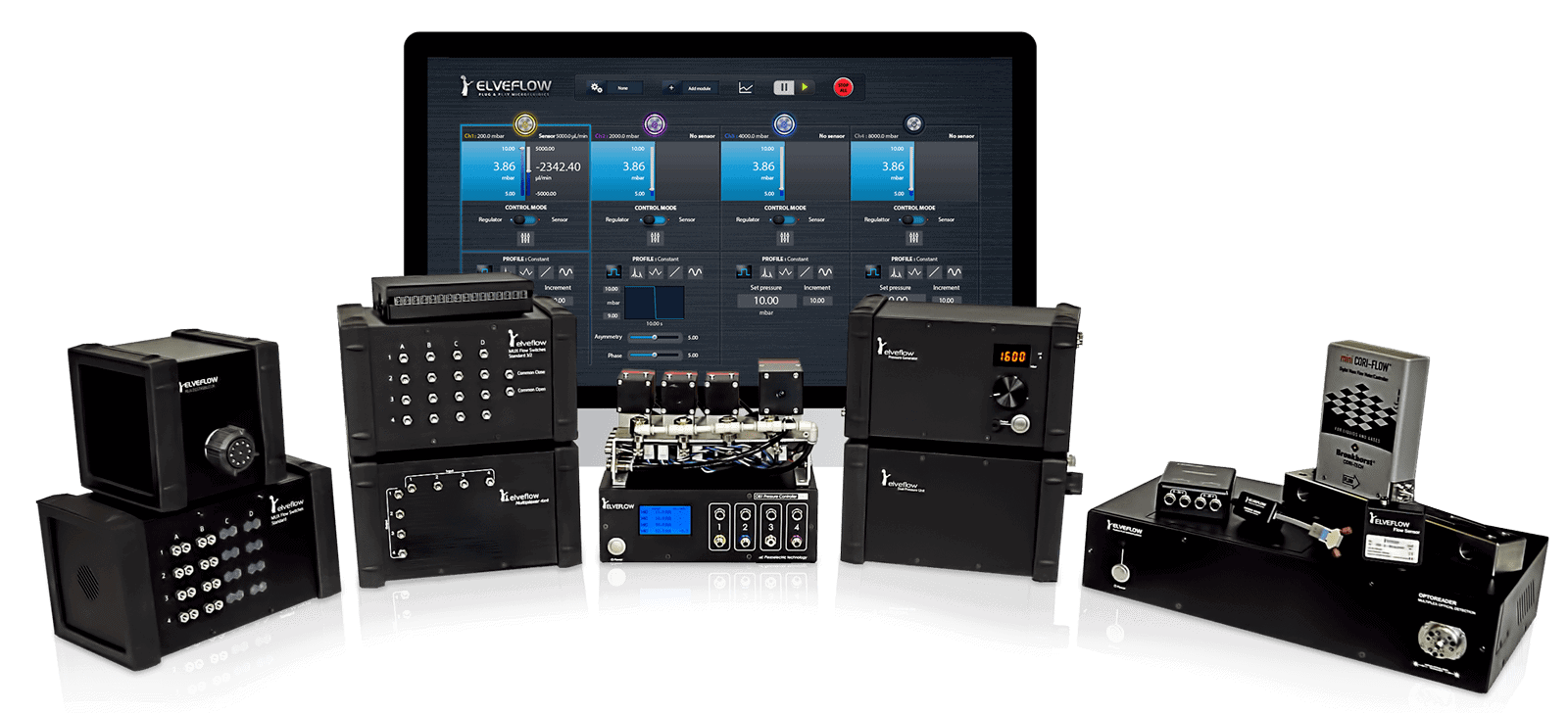 WORLD LEADER IN HIGH PERFORMANCE MICROFLUIDIC FLOW CONTROL
We  provide the only microfluidic flow control system using Piezo technology that enables a blazing fast flow change in your microdevice.