Product Description
Avoid flow rate fluctuation often observed when working with syringe pumps.
Compatible with any syringe pump and a vast variety of syringes: Terumo and BD Luer syringes, Hamilton syringes, etc…
Tygon Tubing 1/16″ OD x 0,51mm ID 23G Fitted (10m coil):  with this winning combination of low stiffness, good elasticity and a remarkable ability conform to pressure, the Tygon tubing 1/16″ OD can be employed in a sophisticated manner to smoothen microlfuidic flow rate fluctuations often observed when using a syringe pump.
23 G Blunt End Safety Tip Needle (x 5): these non-sterile stainless steel needles with an inert plastic luer hub and a blunt end for safety are used to connect Luer syringes to Tygon tubing for general purpose liquid dispensing in laboratory applications.
1/4-28 to 1/4-28 internal threads Union (x 1): these unions can be used with 1/4-28 Flangeless microfluidic fittings (provided in a separate kit, see suggestions below) to connect your Tubing to your microfluidic system.
1/4-28″ connection kit Add On
To connect this product to your flow path, we recommend that you use the 1/4-28″ connection kit, that was designed specifically to connect our reservoirs, manifolds and splitters to your setup, as shown in the picture.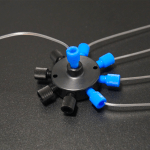 MULTI-PORT
SPLITTERS & MANIFOLDS.
Our selection of microfluidic multi-port splitters and manifolds gives you the flexibility you need to reach new research opportunities,  while being very simple to integrate in a setup.
[/vc_row]