Product Description
Enhance the reactivity of your microfluidic syringe pump
Compatible with any Luer syringe such as Terumo and BD Luer syringes.
PTFE Teflon Tubing 1/16″ OD x 500µm ID 23G Fitted (10m Coil):  this rigid PTFE Teflon tubing will transmit your dynamic flow rate instructions without delay or flow rate loss.
Luer to 1/4-28 Quick Connect PEEK Adapters (x1): this adapter will allow to to connect a Luer type syringe to 1/4-28 threaded connectors.
1/4-28 to 1/4-28 internal threads Union (x 1): these unions can be used with 1/4-28 Flangeless microfluidic fittings (provided in a separate kit) to connect your PTFE Teflon Tubing to your microfluidic system.
1/4-28″ connection kit Add On
To connect this product to your flow path, we recommend that you use the 1/4-28″ connection kit, that was designed specifically to connect our reservoirs, manifolds and splitters to your setup, as shown in the picture.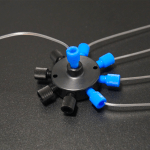 MULTI-PORT
SPLITTERS & MANIFOLDS.
Our selection of microfluidic multi-port splitters and manifolds gives you the flexibility you need to reach new research opportunities,  while being very simple to integrate in a setup.
Questions ? Need a quote?
Contact us today, and we'll be pleased to help you!