OB1 Pressure Controller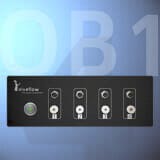 Plug & Play 4 channels microfluidic flow controller
Elveflow® OB1 pressure controllers are a compact and customizable systems designed to generate a stable and pulseless flow and control independently up to 4 channels, for a wide variety of challenging microfluidic applications.
Depending on your requirements, we provide various pressure ranges and configurations …
Elveflow® OB1 start from  3500€ *
* 1 outlet configuration
80ms response time
Ultrafast flow control, snappier and more responsive experiments
0.05% Stability
High precision flow control, rock solid performance
Plug & play
USB control with Elveflow® Smart Interface
Compact
4 independent pressure control units on a small-sized instrument (210 x 210 x 80)
Flexible
Mix the unit numbers you need with 3 pressure ranges 200mbar, 2 bar, 8 bar
Control both flow rate & pressure
Get advantages of pressure control and syringe pump
OB1 pressure & flow controller, classical microfluidic setup

1. Pressure supply
Connect a dry, dust and oil free pressure source to your instrument.
2. Monitoring
Control the pressure or flow rate using your computer.
3. Sample
Pressurize the liquids into the reservoirs with your OB1.
4. Chip
Pressurized liquids are smoothly and precisely injected into the microfluidic chip.
OB1 pressure controller, features and benefits
Get the best microfluidic Plug & play flow control and take advantage of the most recent piezoelectric technology.
Flexibility
Choose the number of independent channels of your OB1 (from 1 to 4 channels). You can mix any pressure range (200 mbar, 2 bar,8 bar) on the same OB1.
Compactness
4 independent channels on a small sized system (210 x 210 x 80 mm).
High stability
The OB1 enables to get a flow standard deviation of 0.05% of the pressure range. The stability of piezoelectric technologies enables you to get the world most accurate flow control for your microfluidic experiment.
Short response time
Piezoelectric technologies used for the OB1 enable flow change in 80 ms in your microfluidic device. Get the world fastest response time for your microfluidic experiment.
Flow rate control
Each channel of your OB1 pressure controller can be coupled with a flow sensor. Using our feedback loop, you can monitor and control flow rate in your microfluidic setup while keeping stability and responsiveness of pressure driven flows. Since flow rate connectors are supplied with all OB1, you can buy your flow sensors and upgrade your OB1 at any time.
High compliance
Former electromechanical pressure controllers have limited gas throughput which limited their ability to quickly pressurize large tanks. The OB1 technology enables fast pressurization of tanks up to 1 liter and enables you to setup long term or high flow rate microfluidic experiments.
Plug & play flow control
Using the Elveflow® Smart Interface you can switch from beginner to expert mode. The beginner mode enables you to control your setup after a few minutes of training. For more advanced experiments, switch to the expert mode to enjoy the full potential of your OB1.
Complex fluidic profiles
The OB1 enables generation of configurable pressure functions as sine, square, ramp… Coupled with flow sensors, the OB1 can generate the same fluidic functions in flow rate.
Complete setup synchronization
Internal/external trigger connectors are supplied on the OB1. Your OB1 can thus be synchronized with any other Elveflow® product, a microscope or any electrical instrument. The Elveflow® Smart Interface enables the synchronization and triggering of up to 16 instruments simultaneously.
Full-custom pressure controller
The OB1 can be modified to fit almost all specific microfluidic requirements. Do not hesitate to contact us to get a quote for an OB1 exactly fitted to your needs.
Flow focusing control using OB1 pressure control
Video description
The ultrafast pressure control technology developed by Elveflow enable the real time tuning of complex focusing regime.
By simply choosing the type of pressure function (constant, step, sinusoïdal, etc…) flow focusing, medium switching and chemistry on a chip becomes a child's play with the more stable performance on the market.
Elveflow® Smart Interface
USB pressure controller software module
Elveflow® instruments are gathered around a software which facilitates the switch from one instrument to another.
Powerful 
Accurate 
Simple
Thanks to an intuitive interface, the Elveflow® Smart Interface enables to use Elveflow® instruments from the simplest command for beginners to the most complex manipulations for experts… read more
Control your experiments through Matlab®, Labview® or Elveflow® Smart Interface. Elveflow® Smart Interface is a software offering all the functionalities that microfluidicists need.
Pressure control
The pressure can be easily adjusted for up to 4 independent channels.
Flow control
When used with a flow sensor, a feedback loop with adaptable parasensors enables a direct control of the flow rate.
Configurations
Store up to 4 different pressure configurations and switch from one to another in a second.
Display & save datas
Real time pressure and flow rate are monitored and can be saved for later studies.
Edit functions
Complex pressure and flow rate profiles such as ramp, sine, square and triangle can be defined.
Elveflow® Smart Interface
When used with a flow sensor, a feedback loop with adaptable parasensors enables a direct control of the flow rate.
Product line & Specifications
The following table summarizes the main features of the Elveflow® OB1 pressure controller. To provide quality & performance, all our instrument are tested and calibrated independently (response time, stability, repeatability … ) and all result charts are stored.
For more information and the detailled datasheet, contact us.
You can create your own elveflow® pressure controller using various options :
The OB1 pressure controller can be prepared with up to 4 independent pressure control units.
Each pressure outlet can be set with a specific pressure range : 200mbar, 2 bar, 8 bar.
Each outlet can be coupled with an additional flow meter.
click to enlarge
According to Elveflow® product code convention, «OB1 200» stands for an Elveflow® pressure controller consisting in 4 units with 200 mbar of maximal ouput pressure. «OB1 Mix» means an Elveflow® pressure controller with mixed output pressures. Due to physical compliance of fluidic systems, performances can change from one setup to another. Contact Elveflow® microfluidic experts for your particular setup needs.
Available options
Microfluidic flow sensor
Some microfluidics applications require knowledge and control of the transported fluid volume. Elveflow® enables both flow rate and pressure control by combining OB1 pressure controller with USB flow meter.  This option combines the advantages of syringe pumps with the reactivity of pressure controllers.
Benefit from the most recent technological advances
High accuracy pressure controller enables the generation and control of  pressure into microfluidic chips. USB monitored apparatus enables to program and control your experiment through Elveflow® software, Matlab, LabView. Our partnership with national instrument is the guarantee of superior performance and reliable devices.
National instruments is our technological partner for embedded electronic

Related technological tips
Syringe pump or pressure controller?
Syringe pumps are extensively used for a lot of flow control applications but are sometimes poorly adapted to fluid handling in microfluidic circuits (read more). At low flow rate, syringe pumps lead to long settling time and pulsing flow. To address this problem, ELVEFLOW offers high precision pressure controllers to obtain fast and accurate flow control in microfluidic devices.
Please ask our microfluidic specialists for advice on how to use our instruments, they will gladly counsel you on the best equipment set for your application
They trust us